How to Illustrate a Recipe
If your passions are at the crossroads of food and making art, consider exploring the wonderful world of illustrating recipes. There are lots of reasons to illustrate a recipe:
Create a unique piece of artwork for your kitchen.
Illustrate an old family recipe.
Create an illustrated recipe to give as a gift.
Start your own illustrated cookbook of favorite recipes.
Develop your skills: explore drawing a variety of objects, shapes, textures, lettering, and more.
This tutorial will give you some ideas about how to approach your illustrated recipe. Illustrating a recipe involves a few different skills such as layout design as and the incorporation of text or hand lettering, as well as drawing skills for the Illustration of the various foods or ingredients. It can be challenging, but well worth the effort! There are probably as many ways to approach illustrating a recipe as there are foods in this world. Have fun and get creative!
1. What elements will you include?
The first step is to decide which elements you would like to include in your final composition. I would recommend starting with the title of the recipe or dish, then you can include as few or as little of the below elements as you'd like. 
Illustration of the finished dish

Illustrations of the individual ingredients. 

Text or lettering of the recipe title

Text or lettering depicting the names and quantities of each ingredient. 

Text depicting the recipe instructions.

Illustrations of the process of preparing the recipe

Additional graphic elements or embellishments. 
Start with a very rough layout sketch. Plan out where each of the elements will go on your canvas. Think about where the visual focus of your piece will be. Place the title and plan where any text might go. Use basic shapes to represent the elements on your layout. Here is a sketch I made for an illustrated recipe depicting the process of making chocolate chip cookies. Very messy and super basic, but this step is important.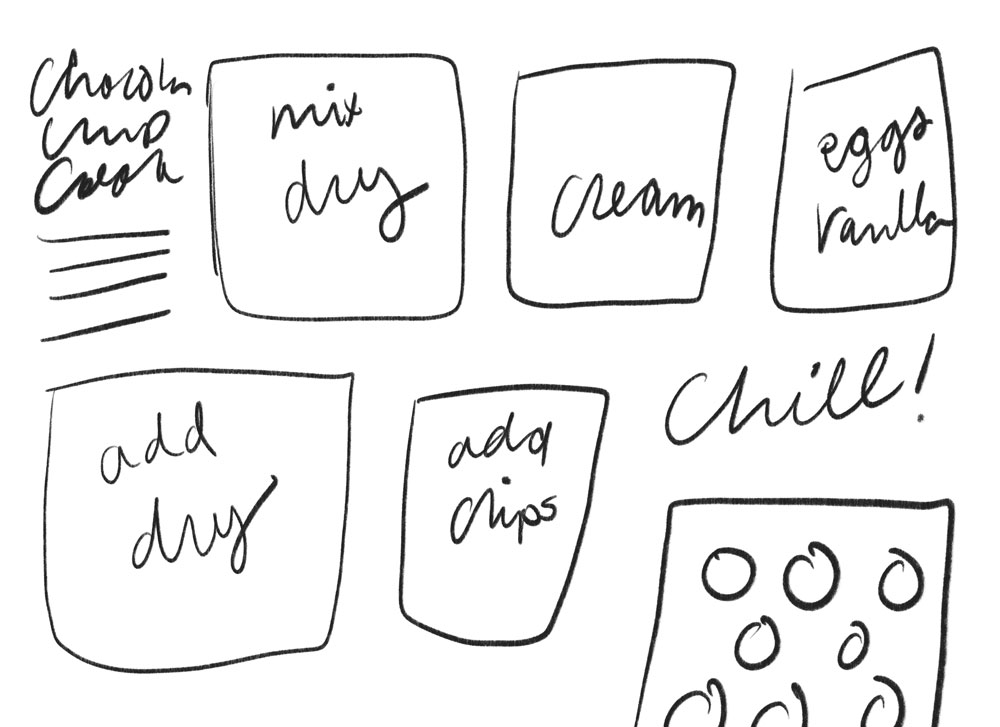 Make loose sketches of each of the ingredients or food items that you'll be including in your composition. Now is also a great time to think about your color palette. What color background would work well for your particular ingredients? Can you use any unexpected colors?
4. Illustrate Food & Ingredients
Work your way through illustrating each of the ingredients and foods. Do a google image search for each ingredient to pull up reference photos as you work. Remember, your illustrations do not have to be super detailed! Experiment with a simpler visual style if you are feeling overwhelmed. Take a look at my finished lemonade recipe for a more simple style.
5. Illustrate lettering or add text
Add the final text and/or lettering. You can letter things like your title and ingredient labels by hand, or use Procreate's text tool to set them in typography. If you are incorporating a lot of text I'd reccomend typing everythnin out in another app iOS Notes or Evernote. Copy/Paste the text into the Procreate text editor.
Add embellishments if desired. Add any other imagery that would compliment your layout. Things like borders, patterns, or other graphic elements. Think about where the dish originates for ideas!
I've created a board of inspirational illustrated recipes for you to peruse. As you look through, pay attention at all the different ways you can illustrate a recipe. What elements are included in these examples? What fun layout ideas can you see?
They Draw & Cook is the internet's largest collection of illustrated recipes created by artists from around the world. It's a great place to go for inspiration and you can particpate in challenges and submit your own illustrated recipe to the site!