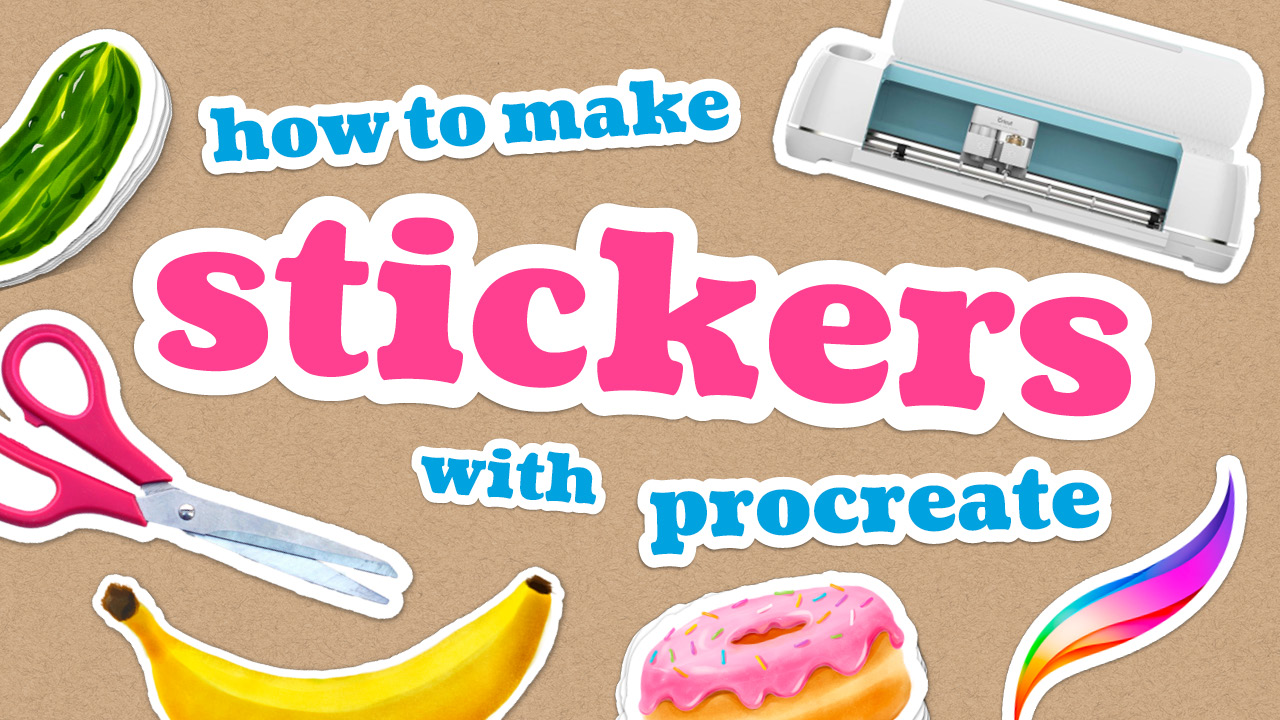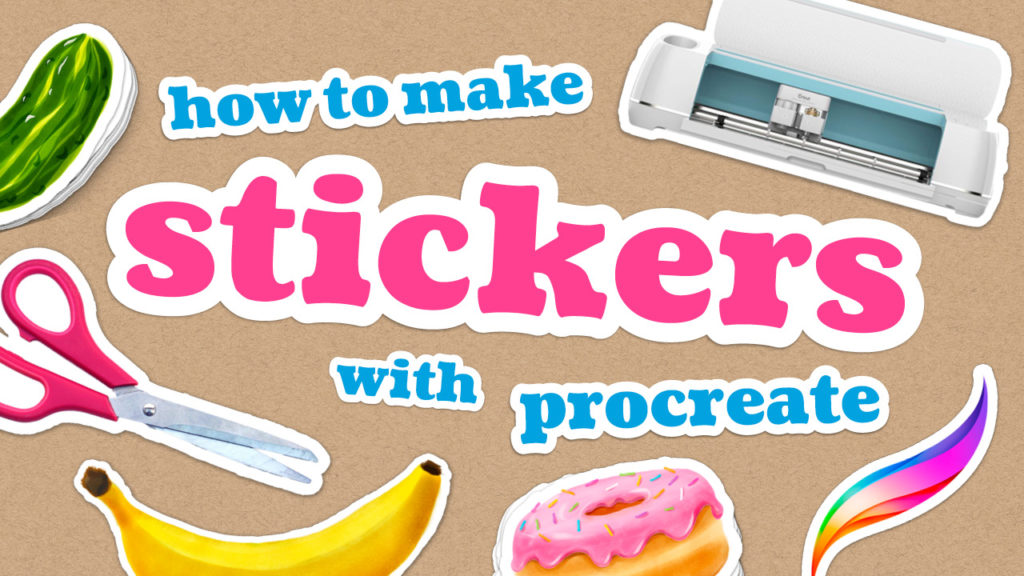 Have you ever drawn something awesome in Procreate and thought to yourself, this would make such a cool sticker…but how??? Well, stop scratching your head because you've arrived at the ultimate resource on how to make stickers with Procreate.
There are many ways to produce stickers, from DIY to professional manufacturing. On this page, I'll teach you three different methods for making stickers: printing at home and cutting them out by hand, how to make stickers with Procreate and a Cricut machine, and all about ordering professionally printed stickers. I'll also be giving you tips about setting up sticker sheets, outlines and cutlines, great places to order your stickers, sticker vocabulary, and so much more!
*Some of the links on this page are affiliate links, meaning I get small percentage of the sale if you make a purchase. Not, much, but enough to buy a donut at the place down the street. They are like, super good donuts, so you'd really be making my day like a hundred times better. 'Cause donuts. 
Dieline/Cutline
The Dieline or Cutline is the line along which a machine will cut a material. Many stickers are set up so that there is a bit of space between the artwork and the cut line, creating a white outline. 
Kiss Cut
A machine cuts through the first layer of the sticker material only while leaving the paper backing intact. In this case, the backing will be larger than the sticker itself. Kiss cut stickers are easier to remove from their backing than Die Cut stickers. Most sticker sheets you'd buy in a store are Kiss Cut. 
Die Cut
The sticker is cut all the way through the sticker material and paper backing, leaving a standalone, custom-shaped sticker. In this case, the sticker and paper backing are the exact same size and shape.
Sticker Sheet
A Sticker Sheet is a layout of many different or duplicated sticker designs on a single page. Sticker Sheets are usually Kiss Cut so that the individual stickers can peel off the paper backing. Sticker Sheets are a great way to print multiple designs at once. When setting up a sticker sheet, be sure to space your designs with enough room for a cutline around each sticker.
Full Bleed
Full bleed is when a graphic or design is printed over the entire surface of the paper with no borders. This can be achieved by printing on a borderless printer or by printing a design slightly larger than it needs to be and then trimming off the excess to achieve the desired print size. It is possible to create full-bleed stickers (no white outlines) by setting up your artwork properly with extra space. 
Learn more about creating full-bleed stickers
. 
Material/Stock
Sticker Material or Sticker Stock refers to the characteristics of the material is used to manufacture the stickers. Stickers might be made of paper, kraft paper, white vinyl, clear vinyl, mirrored, glitter, or holographic stock, cling film, etc. Another consideration in the material is the coating or sheen, be it glossy, matte, UV laminate, etc. 
Backing Paper
Sticker stock, sticker material, or sticker paper is made of two layers. The top layer is where the design is printed and is coated in sticker adhesive. The second layer is a coated paper designed to easily release the sticker when peeled off. One type of backing paper is crack and peel backing in which the backing paper is slit in various spots, making it easier to peel off the sticker.
Vector vs. Raster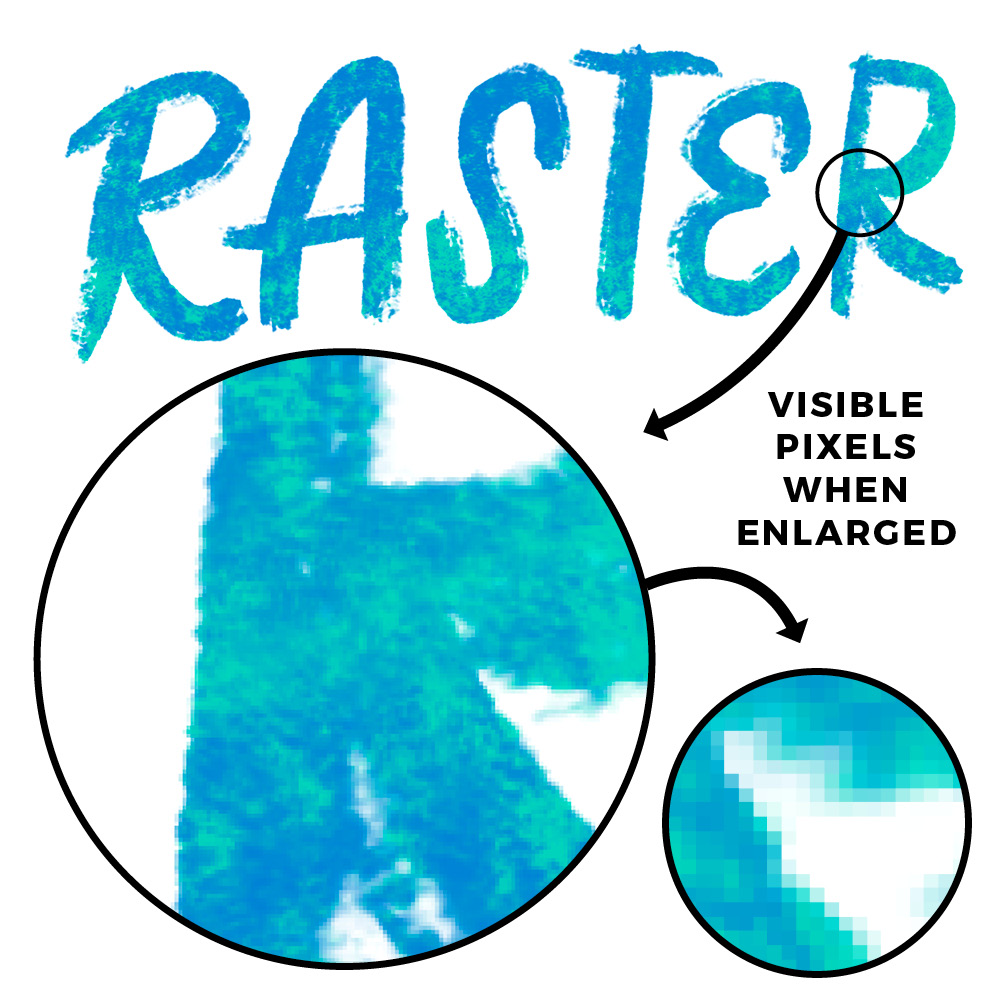 Raster
A raster-based image is comprised of pixels. The more pixels that are contained in an image, aka the higher the resolution of the image, the better the quality of the image. Digital photos are an excellent example of a raster-based image. When a raster image is enlarged, there is a loss of quality, and the image will become pixelated. A raster image can be very detailed with lots of realistic texture without adding much to the file size. 

Common raster file formats are .jpg, .gif, .png, .tiff. Procreate is a raster-based drawing and painting app. Adobe Photoshop is a raster-based photo manipulation app.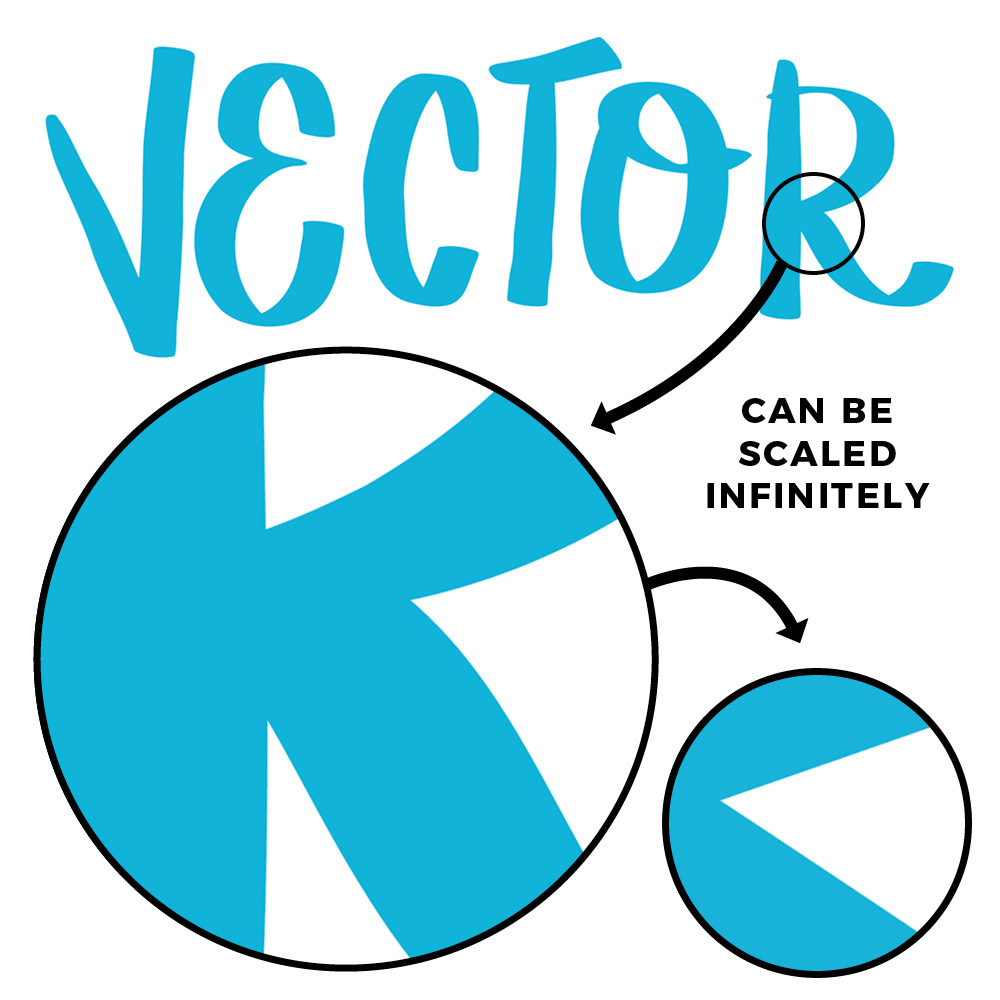 Vector
A vector-based image consisits of paths and shapes that are made by mathmatical formula. Vector images are infinitely scalable, meaning you can enlarge them to any size with no change in quality. Vector graphics are not normally intricately detailed or textured; doing this would increase file size substantially. 
Common vector file formats are .ai .eps, .svg. Adobe Illustrator and Affinity Designer are vector-based. 
You do not need vector art to make stickers. Raster is best as long as your artwork is high-resolution enough. Use my Resolution Calculator to see how large you can print your raster-based artwork.
Want to learn how draw cool art that would make great stickers?
Follow along in real-time and draw with me!
In this tutorial, I'll walk you through making some simple drawings using my FREE 
Kids Make Art!
brush set, and then I'll give you some tips about turning your art into stickers! I'll show you how to draw cute illustrations like a palm tree, rainbow, dog, cat, ukulele, ice cream cone, dinosaur, pretzel, and more! I'll also teach you how to create a realistic digital sticker effect in Procreate.
The first method is to print your artwork on inkjet-printable sticker paper using your home printer, then cut out your stickers with scissors. This method has the lowest-cost entry point, assuming you already have a printer. There are no cut lines to set up so it's It's very straightforward and easy to do if you know your way around a pair of scissors. 
iPad + Procreate

Printer + Ink

Inkjet-Printable Sticker Paper

Scissors
In this video, I will walk you through how I created stickers at home using the print & cut by hand method. I will show you how to get all your artwork onto one page to make a sticker sheet, how to print directly from your iPad, review different inkjet sticker papers, including a durability test, and the pros and cons of this method.
1. Export individual artwork with transparent backgrounds
Gather all the artwork you would like to print as stickers. Open each file and turn off the background layer to create a transparent background. In Gallery View, select all of each of the files, then tap Share, and choose PNG. The PNG file format supports transparent backgrounds while flattening the artwork onto one layer. Save these files to your camera roll.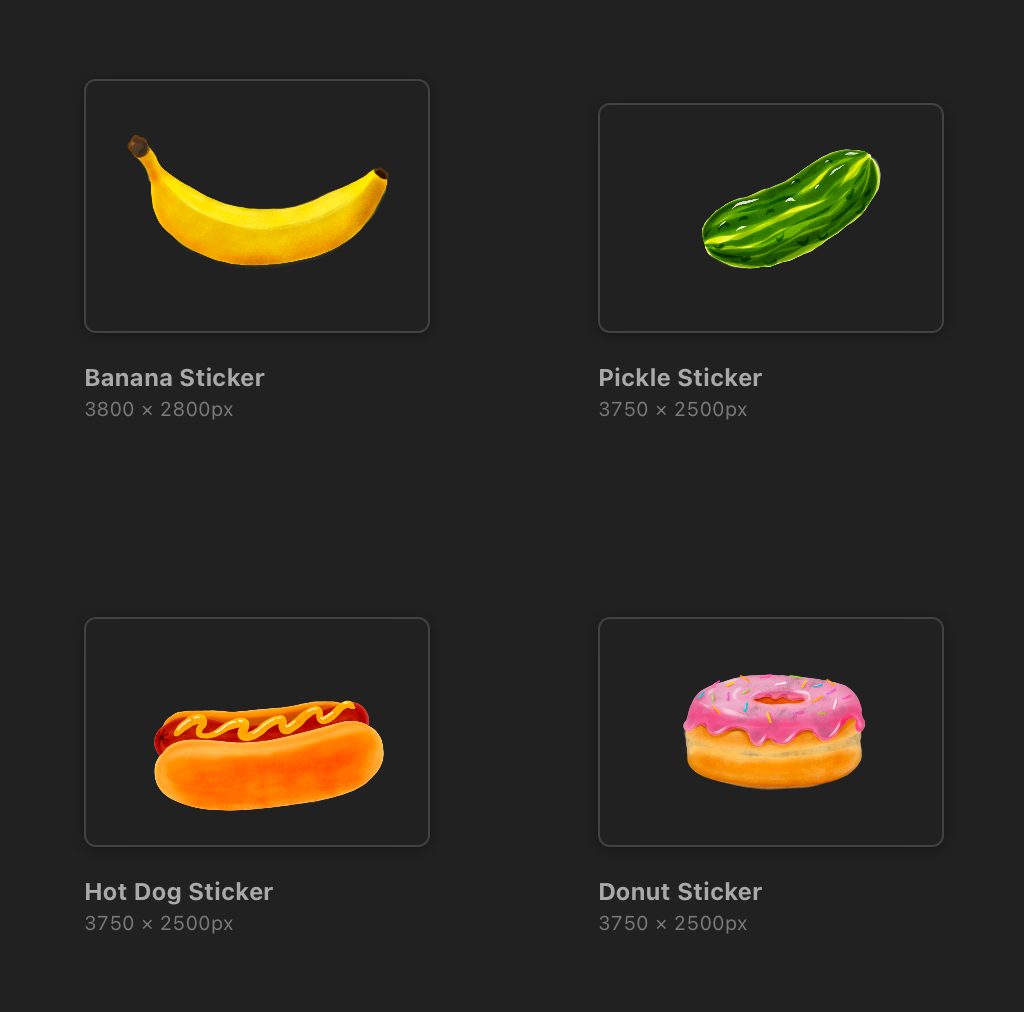 2. Create a sticker sheet the size of your sticker paper
Create a new canvas template. Change the unit of measurement to Inches. Set the size to 8.5×11 and set the DPI to 300. Open this new canvas.
3. Import all artwork to one canvas
Open the photos app in split-screen view. Select all the images you just saved, then tap, hold, and drag them onto your Procreate canvas. They will import with each piece on its own layer.
4. Arrange the artwork to make a sticker sheet
Use the transform tool to arrange and resize each sticker so that nothing is overlapping and there is ample space around each sticker for you to cut it out. You can also duplicate layers to print multiple copies of a sticker on one page. 
5. Save the sticker sheet 
When you are happy with the sticker sheet layout, go to the Actions menu, Share, and save as a PNG to your camera roll.
6. Printing directly from your iPad
You can print directly from your iPad using AirPrint. Check to see if your printer is AirPrint compatible using this article from Apple. You can print this way by opening the exported sticker sheet from the photos app. Tap the Share icon, then tap Print.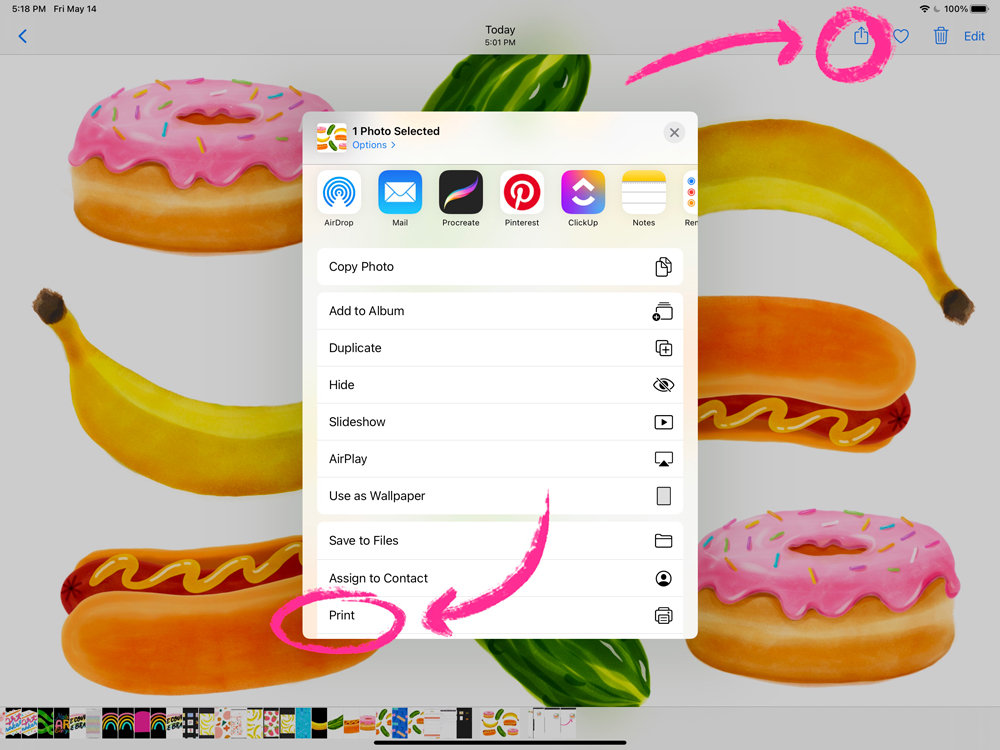 If your printer is not AirPrint compatible (like mine), check to see if your printer manufacture has an app you can install to print. My printer is an Epson WF-7820, and I was able to print using the Epson Smart Panel app. It was a little slow and clunky, but it got the job done. Alternatively, you can transfer the sticker sheet to your computer and print it from there. 
7. Print your sticker sheet
I recommend printing a test page on plain paper first to be sure you are happy with the size of your stickers. When you are ready, load the sticker paper into your printer. Be sure to load it with the correct side facing up so that it prints on the sticker side of the paper. Print your sticker sheet at the highest quality setting. 
8. Cut out your stickers!
Grab a good pair of scissors and get to work cutting out each sticker. I left an even border around each sticker.
Pros and Cons of the print & cut-by-hand method
Printable Sticker papers compared
What to look for in printable sticker paper
When I was shopping for inkjet printable sticker paper, these were the qualities I was looking for:
inkjet compatible

waterproof or water resistant

vinyl material

lots of good reviews
I tried the four papers below when making my print + cut stickers. They were all surprisingly thin when I pulled them out of their packaging, but I suppose that makes sense in order for them to feed through the pinter. My printer had no problems printing these, no jamming. The printer I use is the Epson WF-7820. I was impressed with the print quality overall, but the glossy material looks far superior to me. The prints on glossy paper were more vibrant and contrasty. I performed a water, scratch, and tear test (see results in the video), and the Zicoto brand performed the best. Also, glossy paper was was more durable than matte overall.
The Aiva Sticker Paper in glossy is also a good choice. I've had stickers made from it on my bottle water for a few weeks and they still look great, even after hand-washing.
The second method for making stickers is using a home cutting machine like the ones made by brands Cricut and Silhouette. With these machines, you can create many types of stickers such as die-cut stickers, kiss-cut sticker sheets, full-bleed stickers, and more. In my tutorial, I teach you all about using a Cricut to make stickers. For this method, you prepare your artwork and then import it to another software made by the machine manufacturer. This software allows you to set up your cut lines and layout before sending your stickers to print and cut.
iPad + Procreate

Printer + Ink

Inkjet-Printable Sticker Paper

Cricut Cutting Machine + Accessories
In this video, I'll teach you many different methods and techniques for how to use a Cricut, including getting started with the Cricut, how to make die-cut stickers, how to make kiss-cut stickers, how to add white outlines to stickers in Procreate, how to make full-bleed stickers, how to clean up cut lines, combining many files onto a single sticker sheet, troubleshooting problems with the Cricut, and much more. I'll also be sharing all my tips for having greater success when using a Cricut, plus my honest opinion about using it, and if the Cricut is really worth it. This video is perfect for Procreate users who might be new to using a Cricut, or anyone who is interested in learning about making stickers.
Quickly find a video segment! Below are time stamps to help you find the information you need in the video above:
1:34 Getting Started with the Cricut
3:14 My Quick Cricut Tips
3:54 How to Make Die-Cut stickers
4:10 How to add white outlines to your artwork
10:05 Registration Marks
10:34 Printing from Cricut Design Space
13:21 What is a Die-Cut sticker?
18:17 How to Make Full-Bleed stickers
19:13 Cleaning up cut lines
23:54 What is bleed?
25:25 How to make a Kiss-Cut sticker sheet
32:17 How to combine multiple files into a sticker sheet
36:30 Hand-cut Stickers vs. Cricut-cut stickers
37:06 Pros and Cons of making stickers using a Cricut
39:54 Wrap-Up/Is the Cricut worth it?
Papers used in the video:
Pros and Cons making stickers with a Cricut
The final way to create stickers with your Procreate artwork is by having them professionally printed. ORdering professionally printed stickers is arguably the easiest way to go. By the time you've created your artwork, the hard part is done. Depending on the company you choose to print your stickers, all you need to do is upload your artwork, choose the size and add it to your cart. Then wait a week or so and enjoy your beautiful stickers when they come in the mail. You might have a few questions about setting your artwork up to be professionally printed, and I'll give you a ton of helpful printing information in my final sticker tutorial, all about ordering stickers. 
iPad + Procreate

internet connection and shipping address
Learn all about what you need to do to order professionally printed stickers using artwork you made in Procreate. I'll teach you lots of useful printing information like image resolution, RGB vs. CMYK, what you need to do to set up your files, two easy methods to add white outlines to your art (and if you even need to), and what to look for in a sticker vendor, plus some sticker company recommendations, and I'll walk you though the sticker ordering process with plenty of other helpful tips along the way! I'll also go over the pros and cons of ordering stickers vs. making them at home.
Thank you to
StickerApp
for sponsoring this video! StickerApp was my top pick for ordering stickers and the stickers I received from them were beautiful. While this video is sponsored, all opinions and recommendations are my own.
Pros and Cons for Ordering Professionally Printed Stickers
Places to order custom stickers
Considerations to make when looking for a company to print your stickers:
What is the minimum quantity you need to order?
Is the ordering software or or website easy to use? Do you get to see an instant preview of your sticker?
What are the turnaround times for production?
What are the shipping costs?
What sticker materials are available?
My top pick for a sticker vendor:
In doing my own research about where I wanted to order stickers, StickerApp was a standout. They had a relatively low minimum quantity based on a dollar amount instead of a number of stickers. So it was easy to determine how much money I would be spending. Their website was extremely easy to use, and I didn't need to do anything special to my artwork files to get them ready to become stickers. They had a wide array of materials with previews of each. Because of all this, StickerApp is my top pick for professionally printed stickers.
I liked StickerApp so much, I reached out to them about sponsoring the tutorial above. Not only was I was really impressed with the quality of their stickers, but they were super friendly as people. I highly recommend!
Below are a few other companies I would try based on my research and recommendations from my community.
Which method should you choose?
So which sticker-making method should you choose? The recommendations below are my opinions only, so be sure to weigh the pros and cons to choose the method that will work best for you.
Print and hand-cut your stickers if…
…you only want to make a very small number of stickers, or you want to experiment. This method is perfect if you want to make a custom sticker to fill that last gap on your water bottle, to give as gifts, or even as prototyping before you order stickers in bulk.
Make your stickers using a Cricut machine if…
…you already own a Cricut, or you plan to purchase one to use for other crafty projects as well. It is possible to establish a workflow for making stickers in bulk with the Cricut, but expect to put in a lot of time setting it all up and for production. This method is great for personal use stickers or for a small business that needs a short run of stickers.
Order professionally printed stickers if…
…you'd rather spend more time making art than making stickers. This is particularly true if you are producing stickers for your business to sell. You can get professionally printed stickers pretty affordably, especially if you order in bulk. Personally, this is the method I would choose, and it was so satisfying to see my artwork on a professional-looking product.