for the Making Art Everyday Challenge
Is it just me, or does a crossed-off checklist really make you smile? Sometimes seeing all you've accomplished at-a-glance is motivation to keep going in of itself. Below are some handy graphics to track your Making Art Everyday progress!
In the past, I've noticed that a lot of you felt like you were "falling behind" if you weren't able to complete the prompts each day. I'm here to tell you that the goal of MAE isn't to complete all the prompts. The goal is to give yourself time each day to be creative. We call it "Making Art Everyday" not "Complete a Prompt Everyday!" P.S. Even if you don't get to spend time drawing every single day, that's ok too!
Each month you'll set two goals:
1. How many days you want to draw
2. How many prompts you want to complete
For example, you could set a goal to spend 15 days working through 7 prompts.
This goal setting will give you the flexibility to pick and choose the prompts from each week that speak to you the most. 
Remember: You are on your own path, set goals that work for you. The only person you should be comparing yourself to is your past self.
Example Completed tracker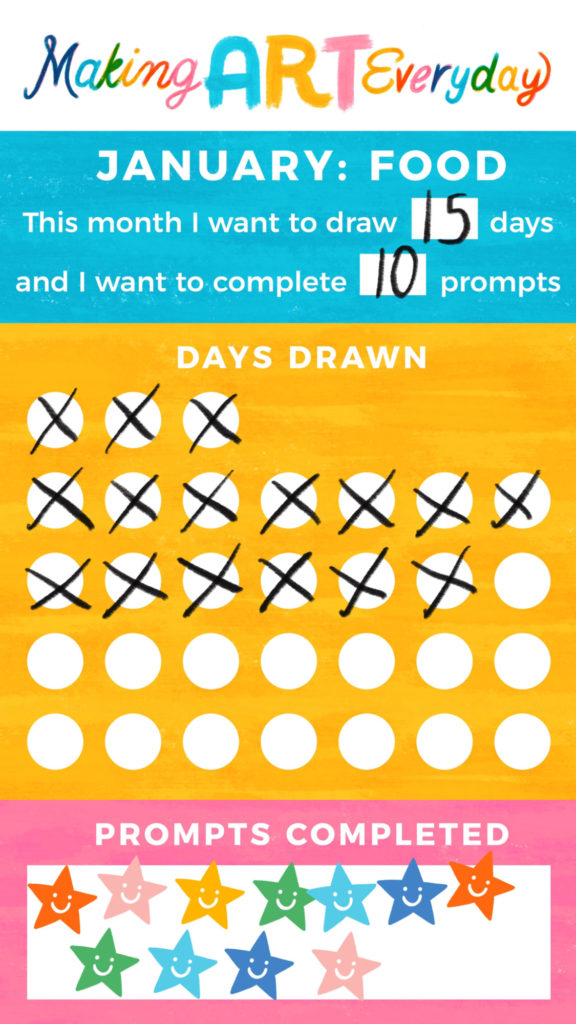 Pssst! You can also save the image above to fill in however you'd like.
First, download January's Progress Tracker (its a .Procreate file, so you can keep track of your progress right in Procreate!)
Open the Procreate file and write in your two goals in the blue section.
Each day you draw, mark off a circle in the yellow section.
And in the pink section, draw a star, hashmark, smiley face, etc. for every prompt you complete!
I even made you a star stamp brush for you to use! It's my Procreate version of a gold star sticker.
The MAE Progress tracker is the perfect size for sharing in your Instagram stories. And when you share your amazing work, don't forget to use the hashtag!