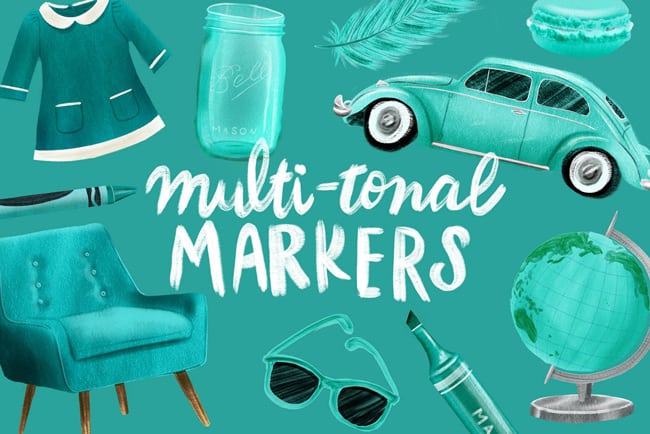 Mother's Day Sale! Get this product for 25% OFF the listed price
No code needed, discount applied automagically at checkout.
Introducing a whole new way to make artwork in Procreate on iPad Pro. Using my innovative new Multi-Tonal Marker Brushes, you can create brilliant color effects, authentic-looking marker drawings, creative lettering pieces, unique illustrations and more. The brushes were built to be the perfect emulation of real markers, from the texture, to the way they darken with layering and pressure. This is my most development-heavy brush set to date and it shows — Multi-Tonal Markers are unlike anything currently available for Procreate.
They are so unique, in fact, you just might need to re-think the way you use Procreate. Not to fear, I've created a 17-page PDF user guide to help you learn the ins and outs of your new markers. I'm also including three color palettes specifically formulated to make the most of your makers.
Multi-Tonal Markers for Procreate are incredibly fun and satisfying to use. Download them now to begin making some multi-hued, vibrant, colorful art!
These brushes come in three flavors for a total of 28 brushes.
Authentic // 10 brushes: Amazing brushes that behave like real markers with multi-tonal color effects. Layering strokes and pressure build up darkness.
Prismatic // 10 brushes: Contain unique color properties that produce variegated, multi-hued color effects.
Flat // 8 brushes: Counterpart brushes with no color effects. Used to achieve even areas of color.
Brushes have been optimized for use with the Apple Pencil.
tap name for description & brush preview
has been added to your cart!
have been added to your cart!