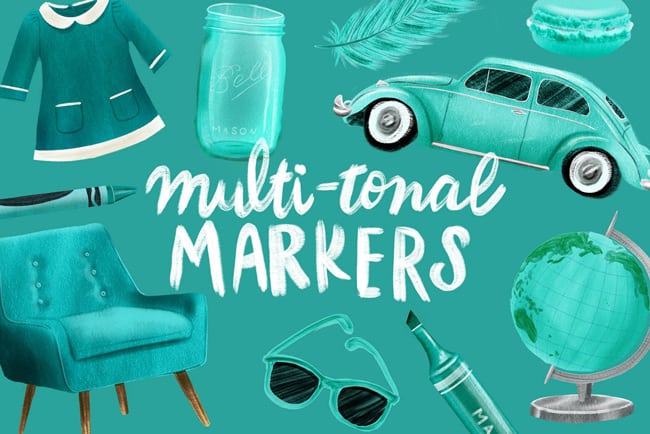 Introducing a whole new way to make artwork in Procreate on iPad Pro. Using my innovative new Multi-Tonal Marker Brushes, you can create brilliant color effects, authentic-looking marker drawings, creative lettering pieces, unique illustrations and more. The brushes were built to be the perfect emulation of real markers, from the texture, to the way they darken with layering and pressure. This is my most development-heavy brush set to date and it shows — Multi-Tonal Markers are unlike anything currently available for Procreate.
They are so unique, in fact, you just might need to re-think the way you use Procreate. Not to fear, I've created a 17-page PDF user guide to help you learn the ins and outs of your new markers. I'm also including three color palettes specifically formulated to make the most of your makers.
Multi-Tonal Markers for Procreate are incredibly fun and satisfying to use. Download them now to begin making some multi-hued, vibrant, colorful art!
These brushes come in three flavors for a total of 28 brushes.
Authentic // 10 brushes: Amazing brushes that behave like real markers with multi-tonal color effects. Layering strokes and pressure build up darkness.
Prismatic // 10 brushes: Contain unique color properties that produce variegated, multi-hued color effects.
Flat // 8 brushes: Counterpart brushes with no color effects. Used to achieve even areas of color.
Brushes have been optimized for use with the Apple Pencil.
tap name for description & brush preview
1. Marker
All-purpose marker that emulates ink on a textured paper.
2. Low Ink
A bit more gritty and dry than "Marker". As the name implies, a marker that is running out of ink.
3. Detail Marker
A fine liner pen for adding details. A super versatile brush — try it at many different sizes!
4. Detail Marker Fine
A version of Detail Marker with a smooth texture.
5. Brush Marker
Extra pressure sensitive brush that flows easily from thick to thin. Amazing for lettering or ink drawings.
6. Chisel Tip
Just might be my favorite of the bunch. Super satisfying chisel tip marker. A fantastic lettering brush as well!
7. Square
A mono-width marker for when you want a little more consistency.
8. Texture Shader
Add freckle-y, speckle-y texture to your work. Great way to add shading to your illustrations.
9. Fat Filler
Fill large areas of color quickly, with a paper texture and freckled edges. Take down the size and use it as a round brush as well.
10. Fat Filler Smooth
A texture-less version of the Fat Filler.