Support an Awesome Procreate Artist!
Influenced by her background in printmaking, Octavia Thorns' work is filled with bright, fun illustrative stories of strong black women.
Octavia is a Chicago native. You can hear her proudly shout, "Go Cubs!" even after moving to Grand Rapids, Michigan where she currently resides. An alumni of DePaul University, she studied graphic design and typography. Octavia describes herself as "a graphic designer by degree but an illustrator and printmaker by nature." Early in life, her mother inspired Octavia to draw. It wasn't until after establishing her career as a graphic designer for a book publishing company that she rediscovered her passion for illustration and printmaking.
Black women are Octavia's inspiration and the central theme of her art. Her art includes bright, fun stories of strong black women which include symbols of her culture. Their "beauty, strength, tenderness, passion, and spirit" are her inspiration. She struggles seeing non-black people illustrating the black experience. Octavia would love to see more diversity within the art community. "I want to hear and see more voices, different bodies, and different faces. Art is beautiful because there are many different ways to express it." She states, "There are so many of us out here. We have voices. We would love to express ourselves for more people to see." 
One of her goals as an artist is to illustrate and print black women in different colors and palettes. Through printmaking, including linocut printmaking, she hopes to show strong images of her culture. Octavia says she wants to inspire those who look like her to take a risk, draw, and print! She wants them to remember, "You have a message to tell the world. Shout it!"
Her favorite artist is Keith Haring. In fact, the second tattoo she chose to have drawn is right over her heart and is none other than a Keith Haring illustration. She says, "I've illustrated 90% of my tattoos with the expectation of my Keith Haring tattoo!"
How Octavia Uses Procreate
Octavia has been using Procreate for approximately 5 years now. Her iPad Pro is now an art tool she cannot live without. She loves the versatility of Procreate. She says it pushes her to use different effects. For example, learning how to animate is complex even if it seems simple. Animation is a teaching tool for her which has allowed her to experiment and grow as an artist. She also loves the different array of brushes and the ability Procreate has to create her own brushes. She shares, "Different brushes can accentuate more detail to your work. Using different effects can help form your style."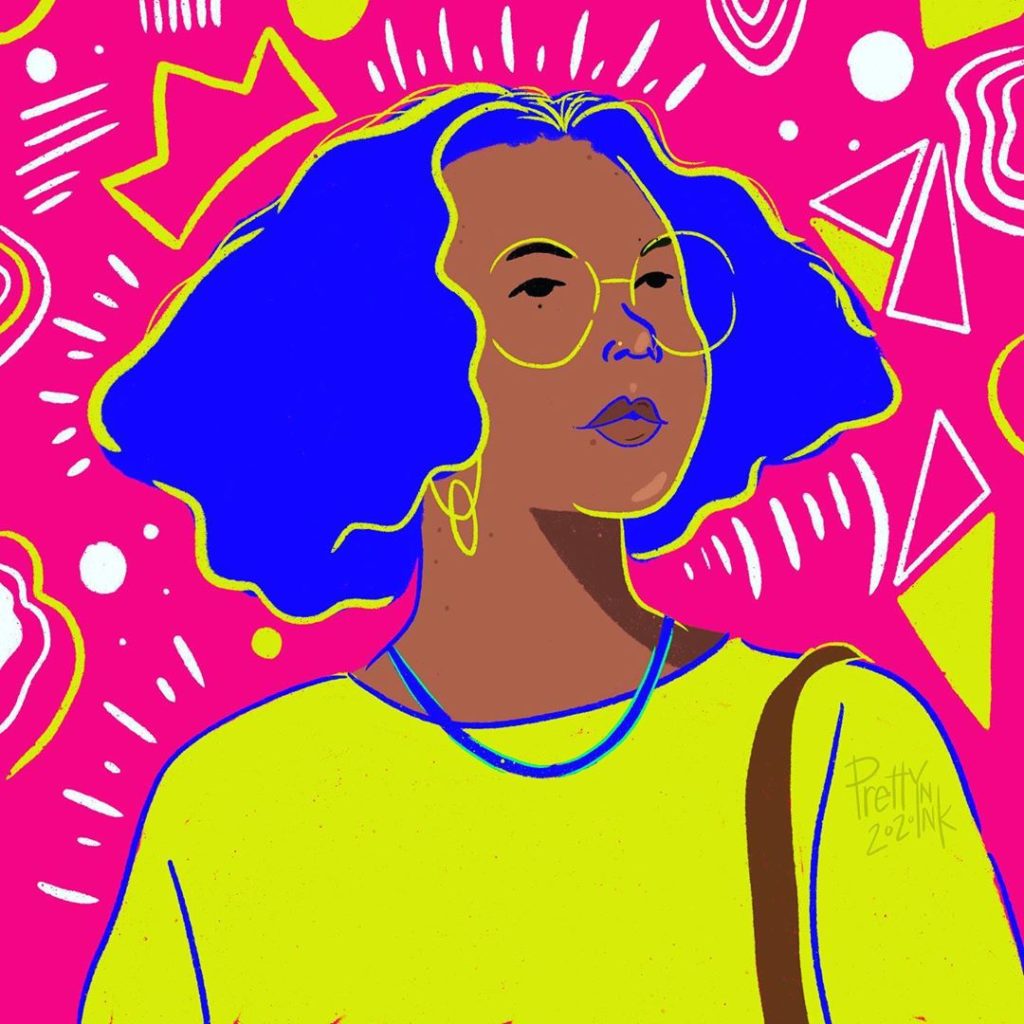 We asked Octavia for advice she would give an artist who struggles with artist's block. She replied, "Rest. It's okay to rest. I had to learn, and I'm still learning … It's ok if I don't make art today. Let it flow naturally. If I want fun ideas, I visit the library. I look at large reference books, and if I can't check out the book, I take photos."
We also asked Octavia if there were any tips or advice she could offer other artists. She wants other artists to know the following: "You're not an imposter! Your art is amazing. Please keep making it. The world of art needs you. Never under-sell yourself."
Octavia says the best way to support her is by purchasing her art and sharing it within your online communities.
Octavia hopes to one day illustrate a book of her own and well as start up an email newsletter. She would love to network and ask questions of how to be successful as an artist and get my work out there! She says, "Please reach out if you're reading this!"