Support an Awesome Procreate Artist!
Mia creates light-hearted, playful illustrations and designs with bold colors, minimal patterns, simplified figures, and speckled gradients.
Mia Saine is a twenty-five-year-old illustrator from Memphis, Tennessee. Mia graduated from Memphis College of Art in 2017 with a degree in graphic design. While working at a graphic design agency after graduation, she took an internship at the International Paper headquarters where she explored the world of infographics. It was here that Mia created her first illustrative characters, Emily and Cheddar the deer. Although she was earning a living in the graphic design industry, she wasn't satisfied with the direction of her work or her portfolio. "What really progressed my art style," Mia states, "was working with the Memphis non-profit the CLTV." The CLTV is an organization dedicated to honoring and supporting African American artists by providing a platform to showcase their work. Each exhibition Mia participated in gave her the chance to challenge herself as an illustrator as well as refine her style and brand. With further encouragement from her roommates, Mia continued to explore illustration and development of her characters. Mia began to feel a sense of wholeness and has been doing professional illustration now for the past three years. 
Mia's goals as an artist include developing inclusive spaces that bring comfort and happiness. She wants to encourage people to connect and empathize with each other. As an artist who deals with depression and anxiety, Mia's illustrations and designs present playful, simplistic characters. "These characters," she shares, "refer to the need for health awareness, normalization, emotional development, spirituality, self-exploration, and self-love methods for minorities — assets that are often absent from media and our communities." Mia also looks forward to branching out and doing more apparel production, home decor, wayfinding, and animation collaborations with her characters.
Mia's inspirations as an artist are many. She is inspired by space and nature. She is inspired by self-discovery as well as social, physical, and mental health issues. She is inspired by fashion shows and 60s, 70s, and 80s culture and music. She is inspired by anime, especially "Starlight Angel" from Robert Carnival, Howl's Moving Castle, and Sailor Moon. In fact, you might find Mia playing the theme song to Sailor Moon on her ukulele, Emerald, whenever she finds herself dealing with self doubt. Mia is also inspired by other artists. A couple of her Memphis favorites include Carl E. Moore and Dana James Mwangi. Other artists who inspire Mia include Nina Chanel Abney, Solange, Sonia Lazo, Keith Harring, Tyler the Creator, Nina Simone, Meg Lewis, Abbey Lossing, and, as she continues, "literally all my artistic friends."
Mia started using Procreate in 2018. Before Procreate, Mia used to pen-tool her illustrations and then add additional features on Photoshop. This was time-consuming because she was working within a grid. Procreate has made her working process so much faster. Mia cannot live without her laptop. "It's portability really allows me to enjoy different spaces," she says. Through this variety of space emerges creativity. She continues, "When I'm stuck in one place, I feel so confined." In fact, one way Mia tackles artist's block is by taking meditation walks and enjoying new space to find inspiration.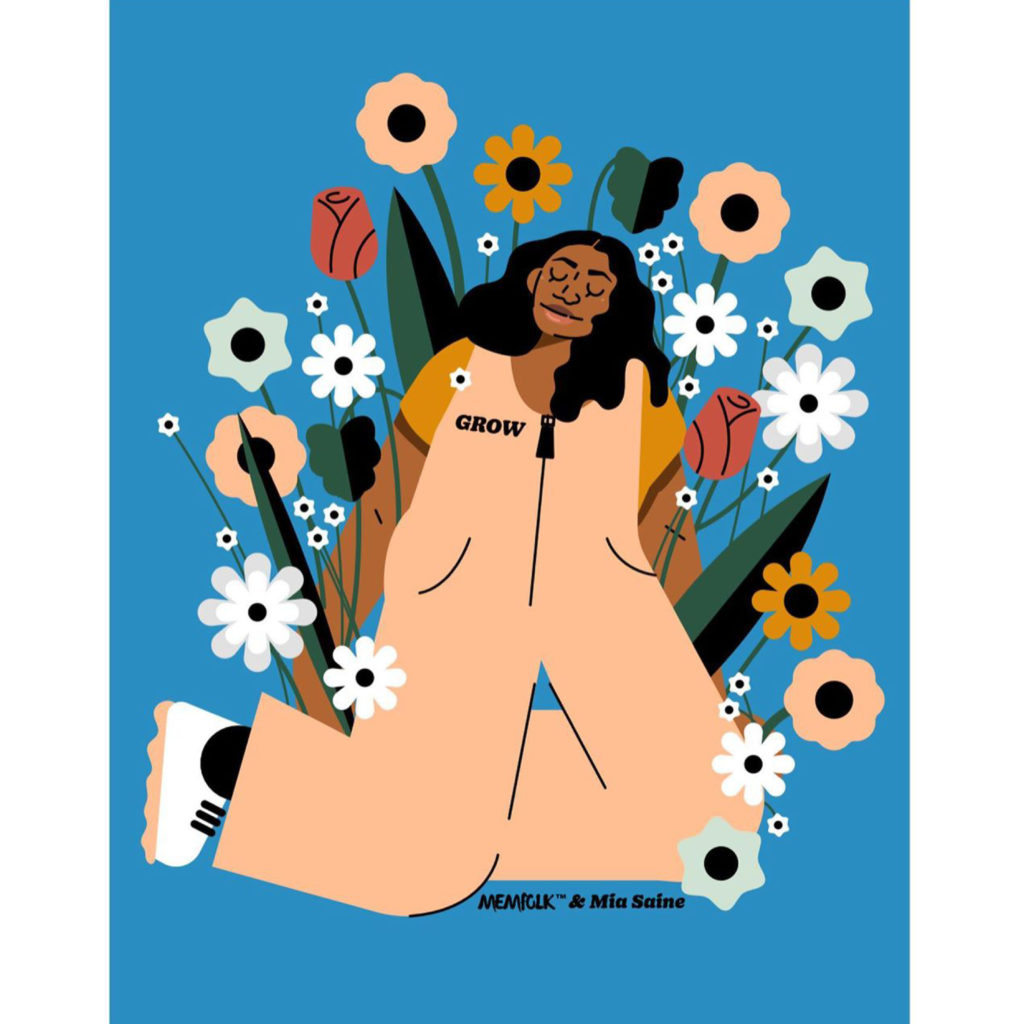 Mia admits that she used to underpay herself. She didn't really understand freelance taxes. Once she started dealing with more clients, she admits, "I had to realize I needed to be more business-minded to make a sustainable livable wage." So her advice to other artists is to "please ask for enough money that reflects not only your talents but your time. You can never get time back, so have rates that are livable and won't have you constantly working."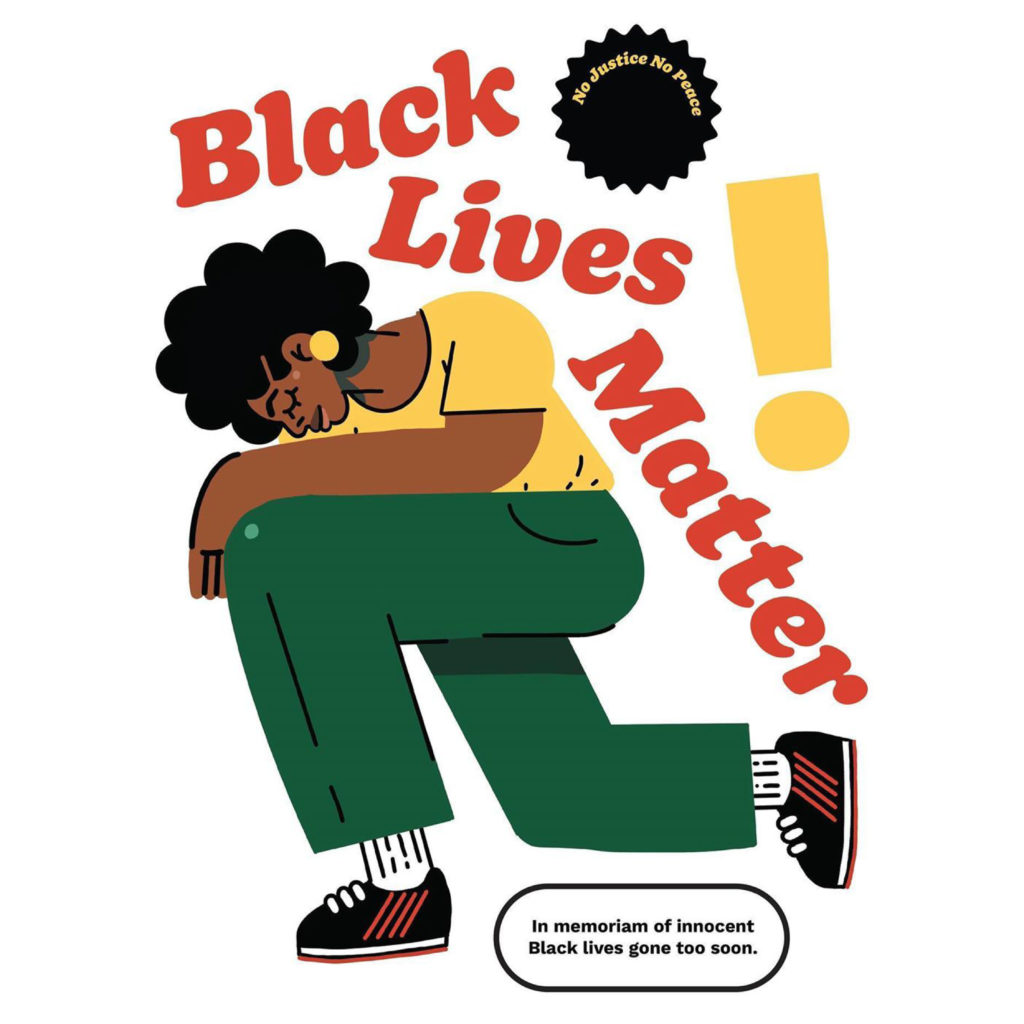 Mia Saine says the best way to support her is by following her instagram so you can purchase artwork and products that she creates. She is also currently taking commission work for September and October 2020.
Her newsletter will be coming out mid-autumn 2020! Please follow her platforms for updates!
Mia's website miasaine.com will launch August 2020.