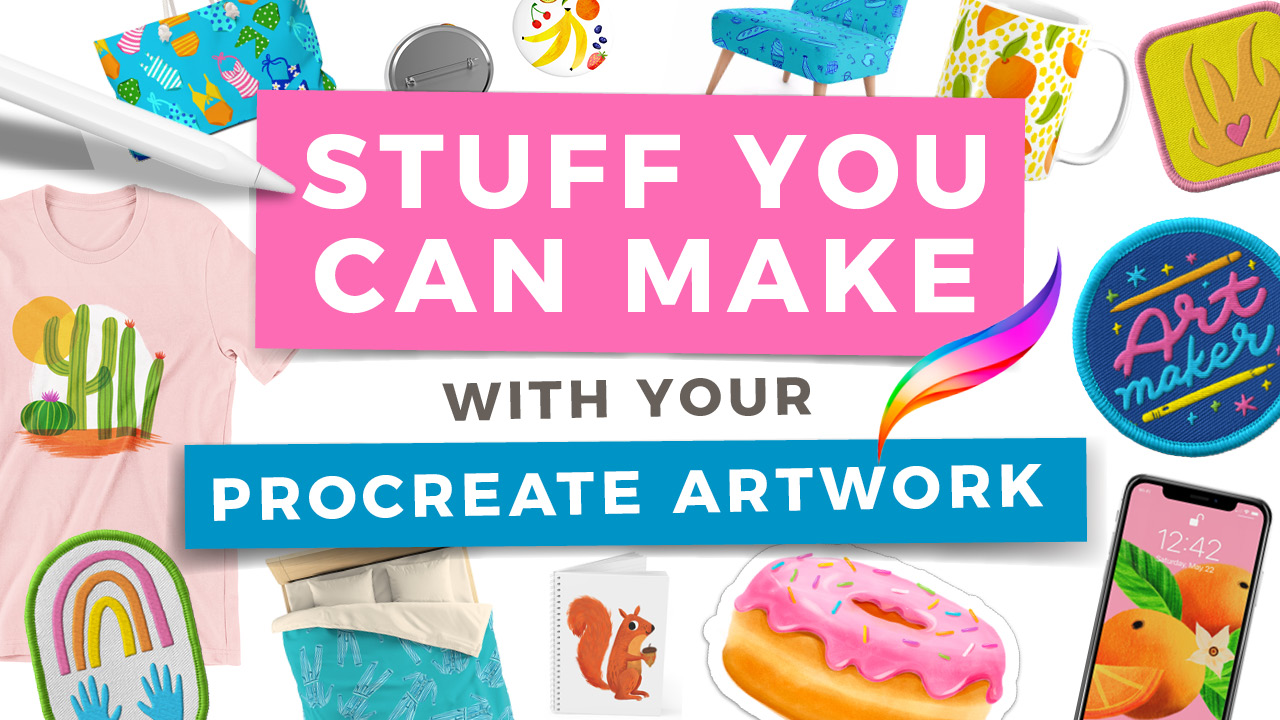 Ever wonder what else you can do with your art?
This may be you. You make art regularly and you've got quite the growing library of work, this has left you wondering? What can I do with all the art I've created? Are you looking for a way to get your art off your screen and make it into something more? Below I've compiled a list of things you can do with your art. From printing your artwork on apparel, home goods, stickers, fabric, and so much more. This article will give you ideas about what you can do, tutorials, and recommendations of companies that will turn your artwork into something you can hold, use, love, gift, or sell.
Design Vocabulary and terms to know
RGB
RGB (Red, Green, and Blue) are the primary colors used for images in the digital space. Use RGB color mode if your artwork is intended to be displayed on a digital screen. 
RBG primaries are used to mix colors of LIGHT, such as the LEDs in a phone or computer display. Because the color is literally made of light, colors can be much brighter and more saturated than printed colors.

Examples of when to use to RGB: If your design project involves web and app design, branding, logos, social media posts, visual content, digital graphics, video, and more.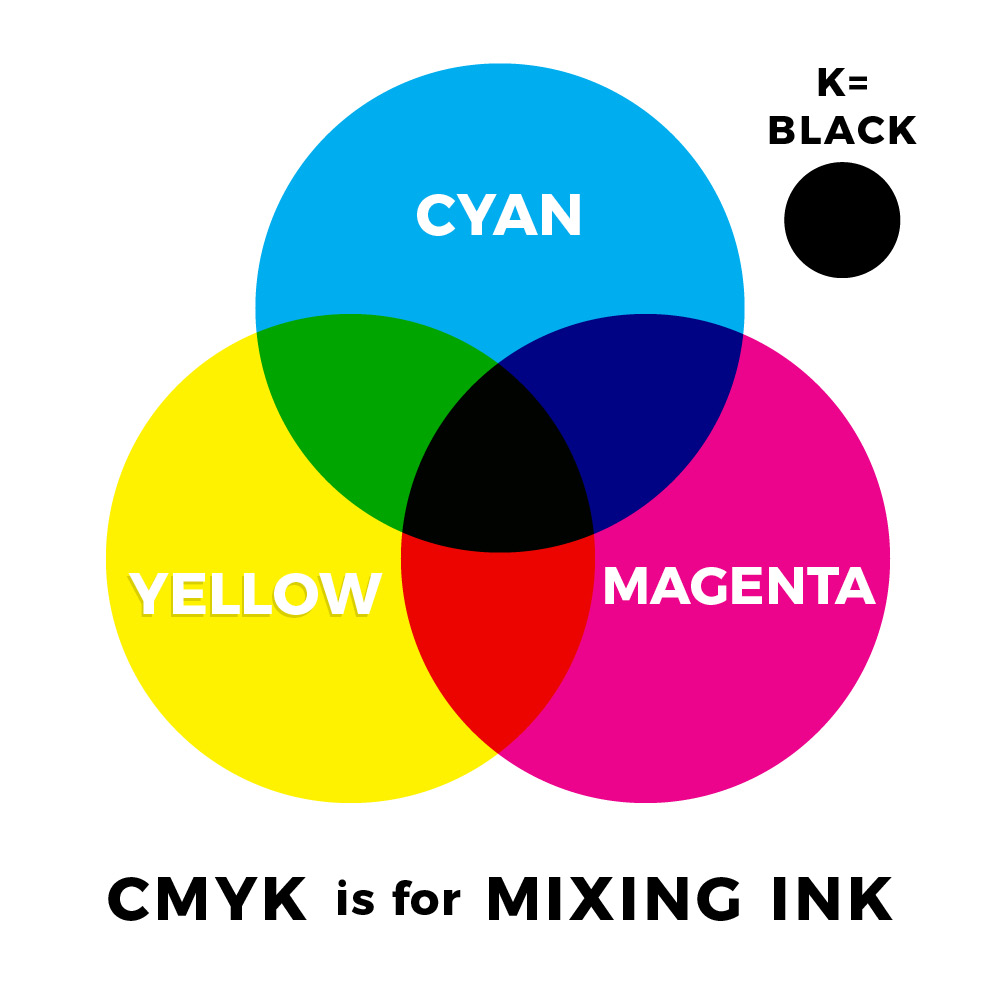 CMYK
CMYK (Cyan, Magenta, Yellow, Black) are the primary colors used for printed materials. CMYK uses cyan, magenta, yellow, and black to create any color. The K stands for "Key" which means black. 
These colors represent the ink colors using in printing. Most full-color printed materials are made using these four ink colors. Use CMYK for any artwork intended to be physically printed. 
Examples of when to use CMYK if your design project involves: business cards, billboards, posters, brochures, t-shirts, hats, and more. 
What Color Profile should I use for Procreate artwork that I want to print?
You might be wondering if you should use a CMYK color profile in Procreate for artwork you intend to print. In theory, the answer is yes.
But I wouldn't.
Now, this is just my opinion here, but I would stick to using an RGB color profile. The colors in the CMYK profile are VERY dull. Not only does it make the art-creation process a lot less joyful, but the colors do not accurately reflect what you can achieve in print. It's waaay less bright and colorful. It feels a bit like you are giving yourself a disadvantage by choosing the CMYK color profile. See my examples below:
As you can see, with the CMYK color profile, there is almost no difference between the original Procreate file and the printed version. But you get much brighter printed colors when you use the RGB (or in my case, Display P3) color profile.
Choose CMYK if…
…you need to know that your on-screen artwork will look exactly the same when printed. Understand that this means colors may not be as bright as they could be.
Choose RGB if…
…you want the brightest possible printed colors. BUT, expect that your print will not be as bright or as saturated as it looks on your screen.
DPI and Resolution
DPI
DPI (Dots per inch) is the standard measure of printer resolution for digital imagery. DPI stands for the amount of dots per one square inch of the image. 
Resolution
Resolution stands for the amount of pixels presented in an image. In web, the typical resolution is 72 PPI (Pixels per inch). The ideal resolution for printing is between 125 and 300 PPI.
The terms DPI and PPI do not mean the same thing, but they are commonly used interchangeably.
Use my Resolution Calculator to see how large you can print your art or how big you should make your Procreate canvas for printing at specific sizes. PRO TIP: Always check with your print vendors to see what image resolution they require.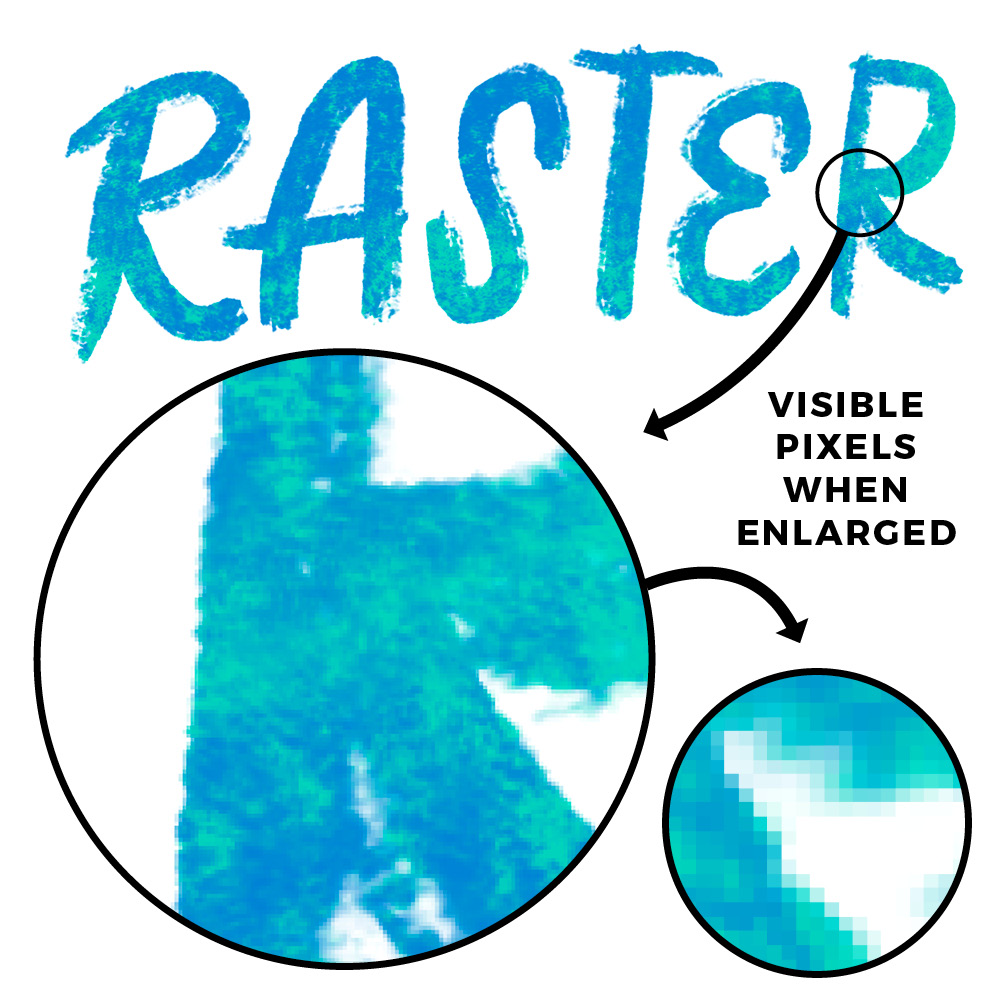 Raster
A raster-based image is comprised of pixels. The more pixels that are contained in an image, aka the higher the resolution of the image, the better the quality of the image. Digital photos are an excellent example of a raster-based image. When a raster image is enlarged, there is a loss of quality, and the image will become pixelated. A raster image can be very detailed with lots of realistic texture without adding much to the file size. 

Common raster file formats are .jpg, .gif, .png, .tiff. Procreate is a raster-based drawing and painting app. Adobe Photoshop is a raster-based photo manipulation app.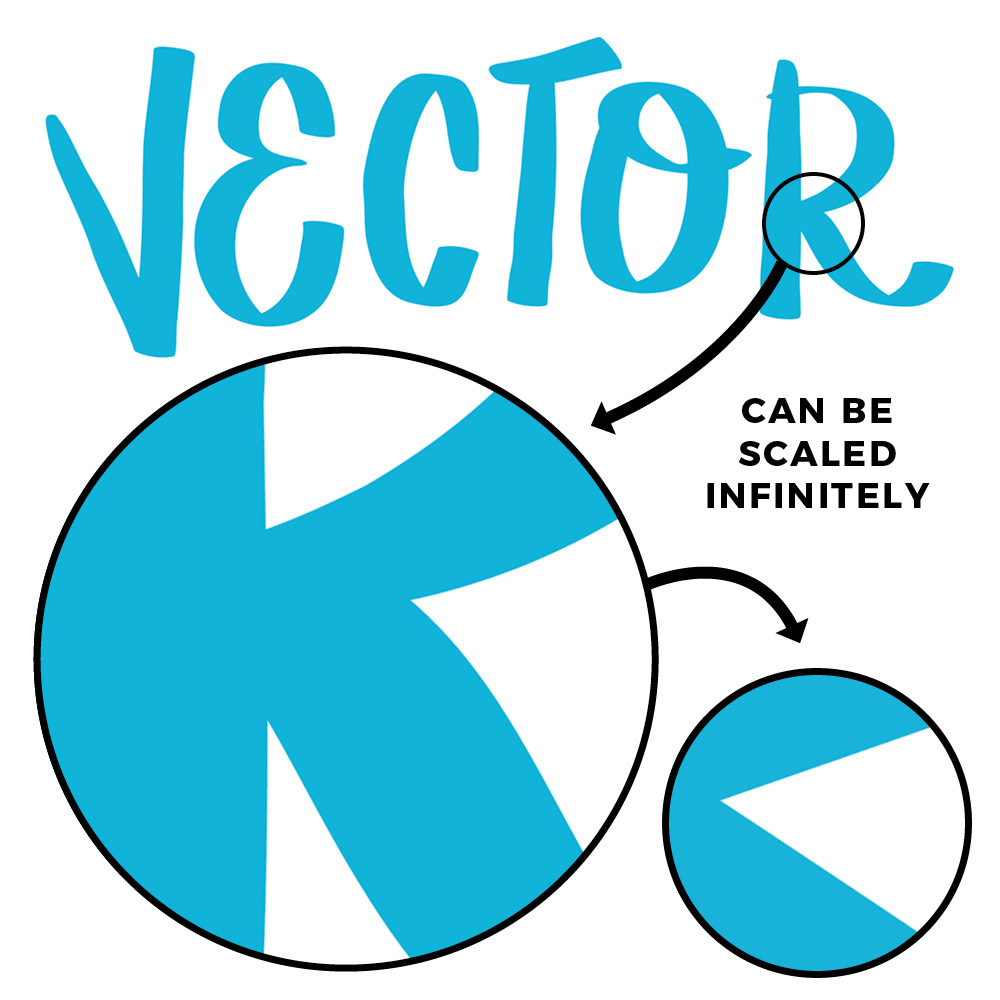 Vector
A vector-based image consisits of paths and shapes that are made by mathmatical formula. Vector images are infinitely scalable, meaning you can enlarge them to any size with no change in quality. Vector graphics are not normally intricately detailed or textured; doing this would increase file size substantially. 
Common vector file formats are .ai .eps, .svg. Adobe Illustrator and Affinity Designer are vector-based. 
You do not need vectorize art to print it.
 Raster is best as long as the resolution your artwork is high enough.
Use my Resolution Calculator to see how large you can print your raster-based artwork.
Spot Colors
Spot colors are pre-mixed inks that are placed in particular areas designated for that color. M Spot colors, sometimes known as solid colors, are mixed before printing. The mixed color is the final printed color. By comparison, in CMYK printing, the final colors are achieved by overlaying the four primaries: cyan, magenta, yellow, and black (CMYK) during the printing process.
Screenprinting is an example of a printing process that uses spot colors. The final ink color is mixed first, then printed.
Things you can Make with your Art!
People often have ideas of what to print their art on but oftentimes get stuck on where and how to start. I know it can be a little overwhelming, especially when you don't know the design terms or the requirements are things you've never heard of before. But that's what this page is for! There are a ton of things to turn your art into products. Whether you're making these products as a gift or purchasing bulk items to sell on your online shop, I hope this page will provide you with the confidence to start! I've gathered a list of ideas, places to get your art printed on, what types of products you can customize, and certain things to consider and look out for when printing certain products. Now that you have this resource available, what are you waiting for? Let's make some cool stuff!!!
Printing your Art on Apparel
How about turning your artwork into something wearable? You'd be shocked at how easy it is these days to make the jump from artist to fashion designer. There are many companies offering the service of printing your artwork on anything from hats and shirts to socks and leggings, and so much more. Today's technology makes it easy to upload your art and instantly see it as a mockup on a wide array of products. Here are some ideas of apparel ideas you can design using your Procreate artwork:
t-shirts, hats, leggings, hoodies, sweatpants, socks, scarves, jackets, dresses
Places to print Artwork on Apparel:
Things to consider when printing your art on apparel:
What is Dye Sublimation Printing? 
Dye Sublimation printing is printed on special transfer paper. The next step involves a heat press in which the ink from the paper is transferred onto the fabric. The ink changes from a solid to a gas (hence the term "sublimation") and enters the polyester fibers. 
What is Screeprinting (or Silkscreen Printing)?
Screen printing is the process of transferring a stencilled design onto a flat surface using a mesh screen, ink and a squeegee. Learn more here from this article on customplanet. 
All-Over Printing vs. Placement Print/Engineered Print
All-Over Printing
All-Over Printing refers to the print being printed all over the fabric instead of just one portion of the garment. The artwork may be printed onto the fabric then cut and sewn together, OR it may be printed directly onto a sewn garment.
Placement Print
Placement print, also known as an engineered print, means the artwork is printed onto a specific location of the garment, usually the check or pocket area of a t-shirt, etc. The artwork is printed onto a sewn garment. 
Printing your Art on Home Goods
Bring some life into your home with your very own designed home goods! From pillows to curtains,  you can design a print or illustration for each season. Tired of how your bed sheets look? Change it up with a unique design made by YOU!  Listed below are some ideas of home decor items you can get customized with your own art:
blankets, pillows, curtains, rugs, tableware, furniture, wallpaper, bedding, duvet covers, chairs, coasters, tablecloth, towels, tapestries, candles
Printing your Art on Stationery Items
As creatives, we all carry certain things that help us with our day-to-day flow. Some carry notebooks filled with their daily sketches, others have planners with things like pens and washi tape to plan out their week, while some carry journals for writing beautiful poetry. Whatever it may be, there's also a way to make your must have stationery item unique. Here are some ideas of Stationery items you can create:
notecards, greeting cards, notepads, notebooks, journals, pens, washi tape
Making Wall Art and Prints with your Artwork
Bring your walls to life by giving them a change in artwork. Looking for cheaper alternatives to elevate your space? Creating a gallery wall or having stunning piece of art can make a huge impact. Gift a customized art piece or change up your prints by creating one of the many items listed below:
wall art, art prints, canvas, posters, wood prints, metal prints, framed art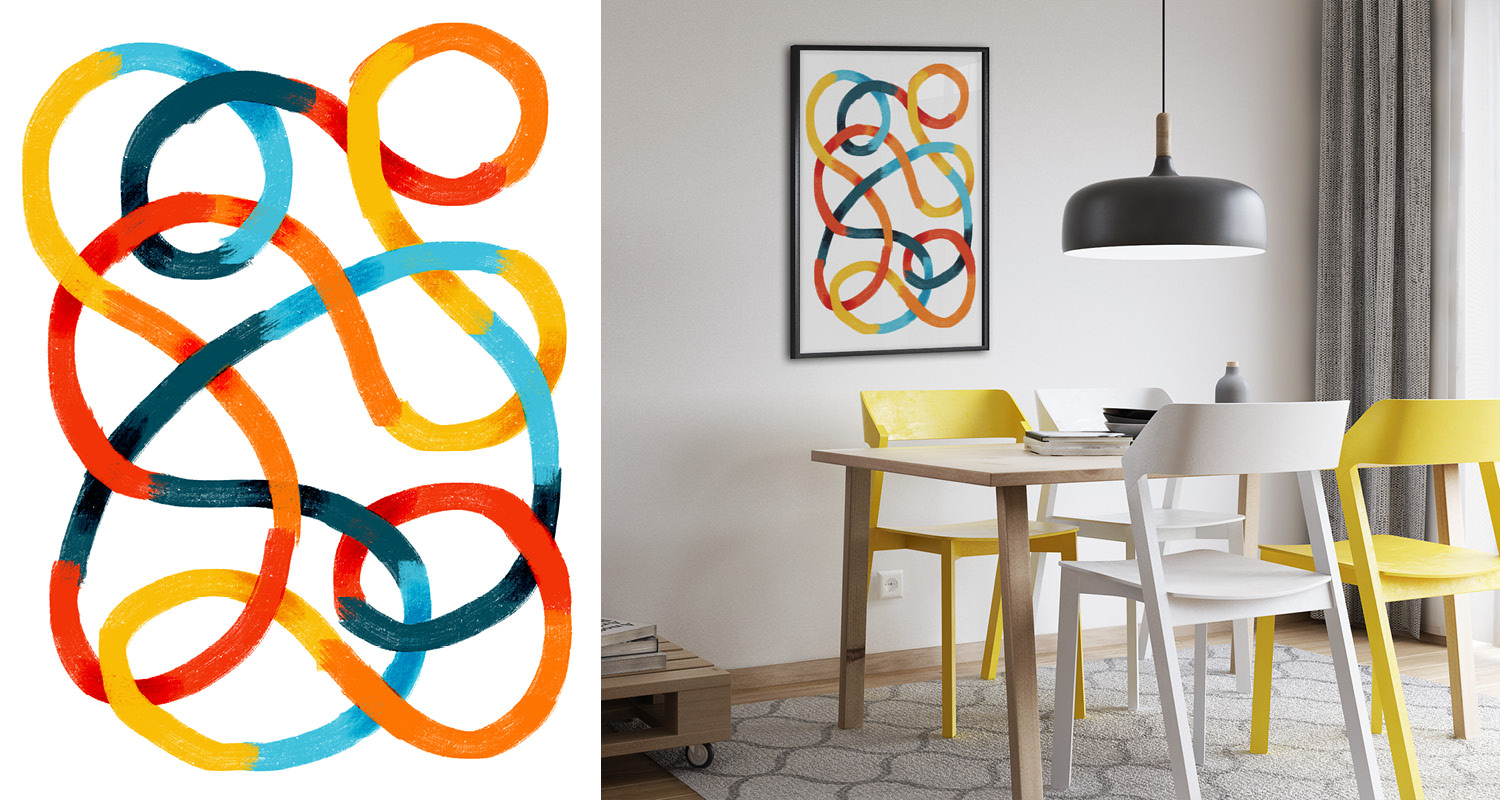 Printing your Art on Collectables
There are so many ways to create one of a kind collectable items such as stickers, pins, patches, and more! Turn your fun artwork and designs into cool collectable items to give as gifts. Listed below are several places to print your own collectable items! 
stickers, enamel pins, patches, buttons, magnets, charms, keychains
Special note about pins and patches:
 pin and patch manufacturers usually prefer vector art, but most will work with whatever artwork you have and help you convert it to the proper format for making a pin or patch. Keep in mind that the price of these products will typically increase the more colors you use, so design accordingly!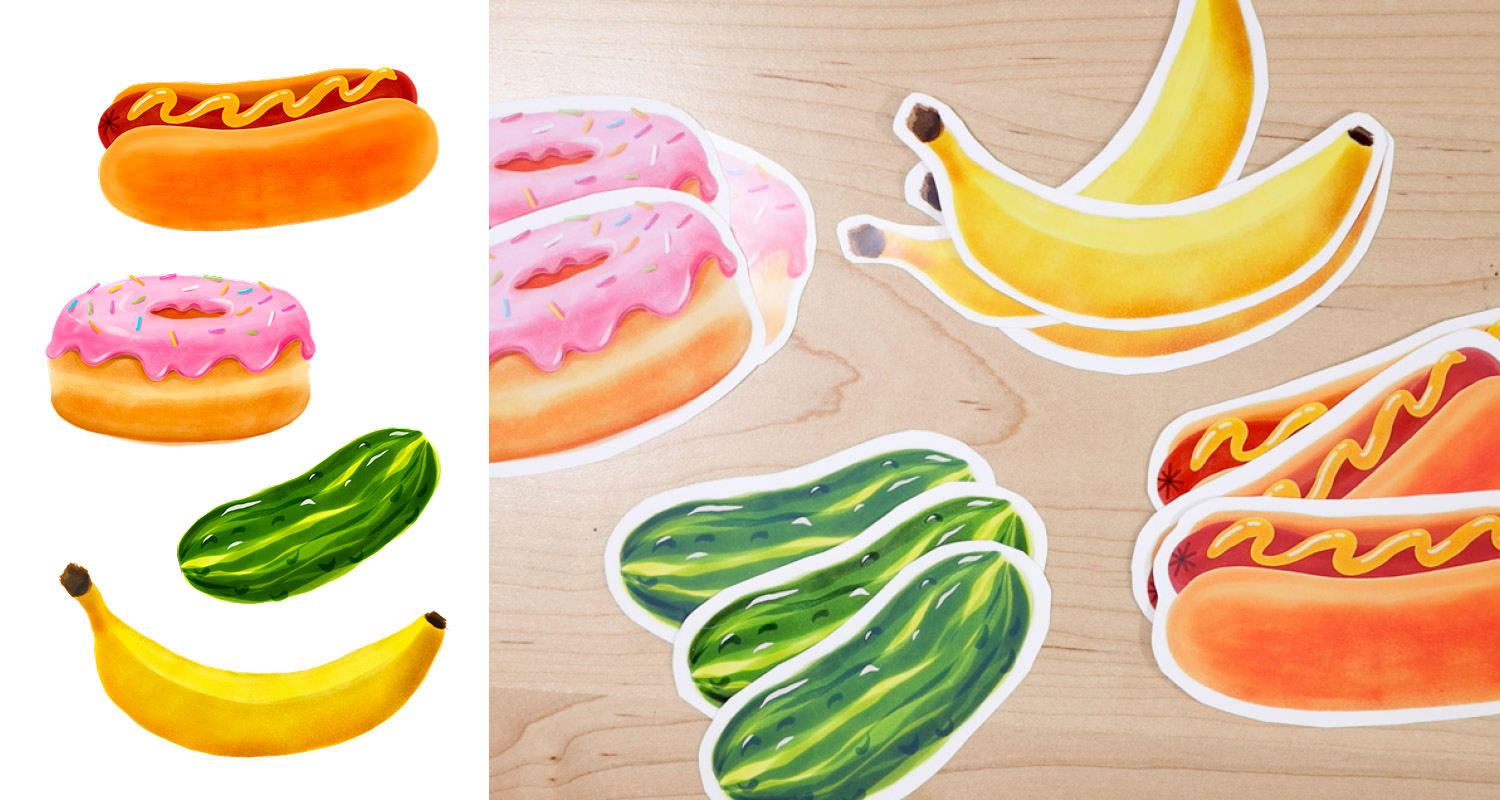 There are many ways to produce stickers, from DIY to professional manufacturing. In this video mini-series, I'll teach you three different methods for making stickers and give you tips about setting up sticker sheets, outlines and cutlines, great places to order your stickers, sticker vocabulary, and so much more!
Have you ever wanted to print your own fabric for custom sewing projects? Well, with today's technology, you're able to print your very own designs onto fabric. Turn your fabric into products like apparel, bags, bedsheets, bandanas, and basically anything else you can create with fabric! The possibilities are endless! 
I use Spoonflower to print my fabric and am very satisfied with the quality! Spoonflower and Contrado also offer a myriad of other products on which you can print your artwork. I highly recommend giving them a look!
Have you ever wondered how to make a pattern that repeats perfectlly? It's actually quite simple to do right in Procreate. In this video, I will teach you how to make seamless repeating patterns in Procreate.
Other fun things you can make with your art
Aside from the list of things I  just mentioned, there are so many other fun things to print your art on! Here's a list of some other additional fun things to consider!
toys, puzzles, games, cards, custom tiles
Create your own custom tiles on Zazzle!
Create digital things with your Art
Let's not forget about all the wonderful digital things you can create with your art!  Listed below are a variety of things to do!
Wallpaper for phone/computer
Animations
Instagram stickers and GIFs
Create a slideshow wallpaper (of your own art) for your TV