How to Draw Stickers in Procreate
In this tutorial, I'll walk you through making some simple drawings using my Kids Make Art! brush set, and then I'll give you some tips about turning your art into stickers! I'll show you how to draw cute illustrations like a palm tree, rainbow, dog, cat, ukulele, ice cream cone, dinosaur, pretzel, and more! I'll also teach you how to create a realistic sticker effect in Procreate. You can learn TONS more about making your Procreate artwork into stickers on my Sticker Resource Page!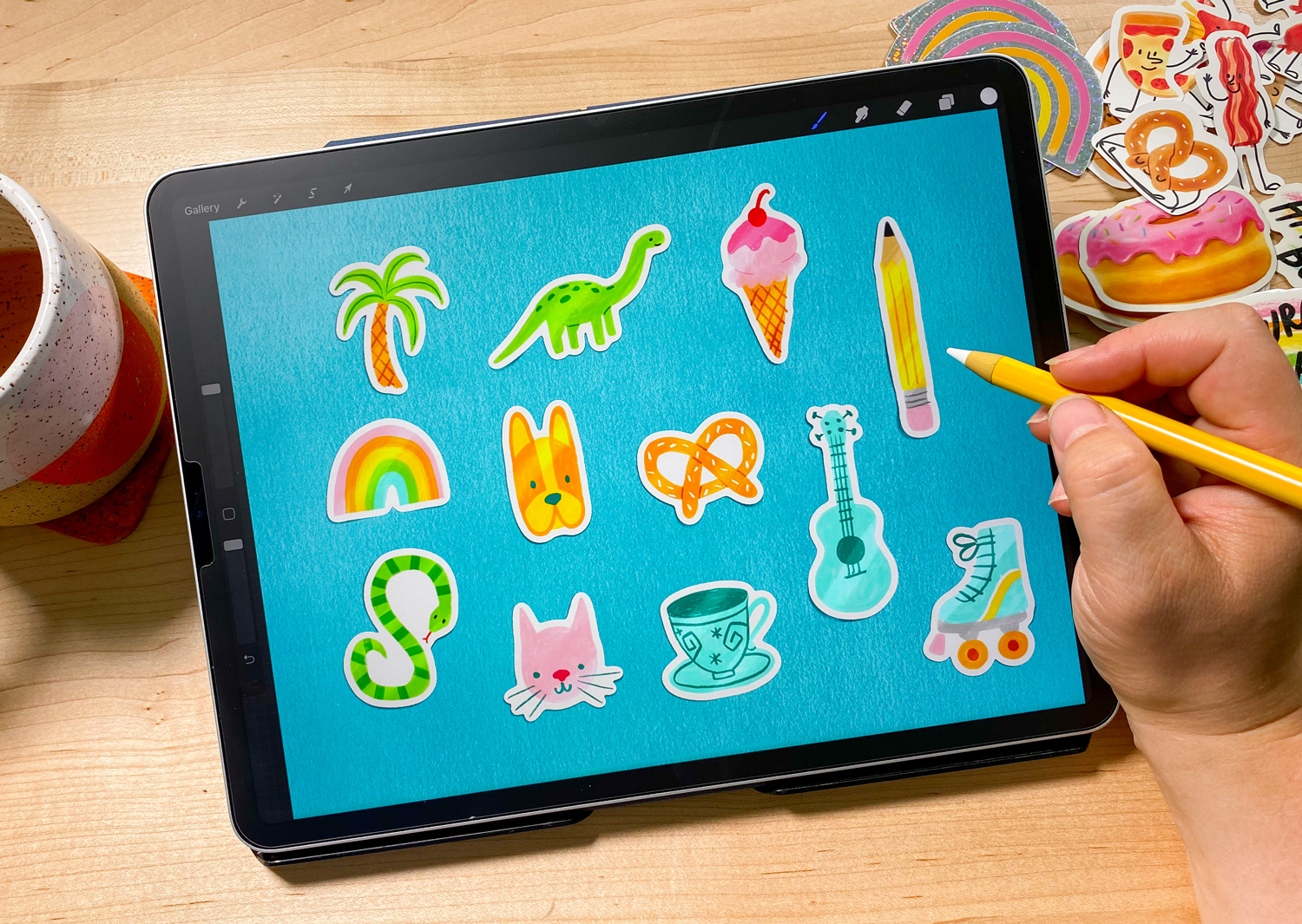 Free Procreate Color Palette
Brushes in this tutorial are from my FREE Kids Make Art! brush pack
For the sketch: Colored Pencil
Most shapes: Fine Point Marker
Snake & rainbow shapes: Marker 
Line details: Colored Pencil 
Paper Texture: Paper brush from my Texture Maker set
Erasing/refining shadows: Soft Brush from the Airbrushing set (built-in Procreate brush)

Attention kids and kids-at-heart! I created this set of 6 high-quality Procreate brushes for little artists learning how to use Procreate or for anyone who wants to re-live the magic of a free afternoon, a blank piece of paper, and a box of art supplies. This set of FREE Procreate brushes has all your favorite art supplies – crayons, markers, paint, and colored pencils!
Procreate Sticker Resource Page
You ultimate resource for making stickers using Procreate art
There are many ways to produce stickers, from DIY to professional manufacturing. On this page, I'll teach you three different methods for making stickers: printing at home and cutting them out by hand, how to make stickers with Procreate and a Cricut machine, and all about ordering professionally printed stickers. I'll also be giving you tips about setting up sticker sheets, outlines and cutlines, great places to order your stickers, sticker vocabulary, and so much more!