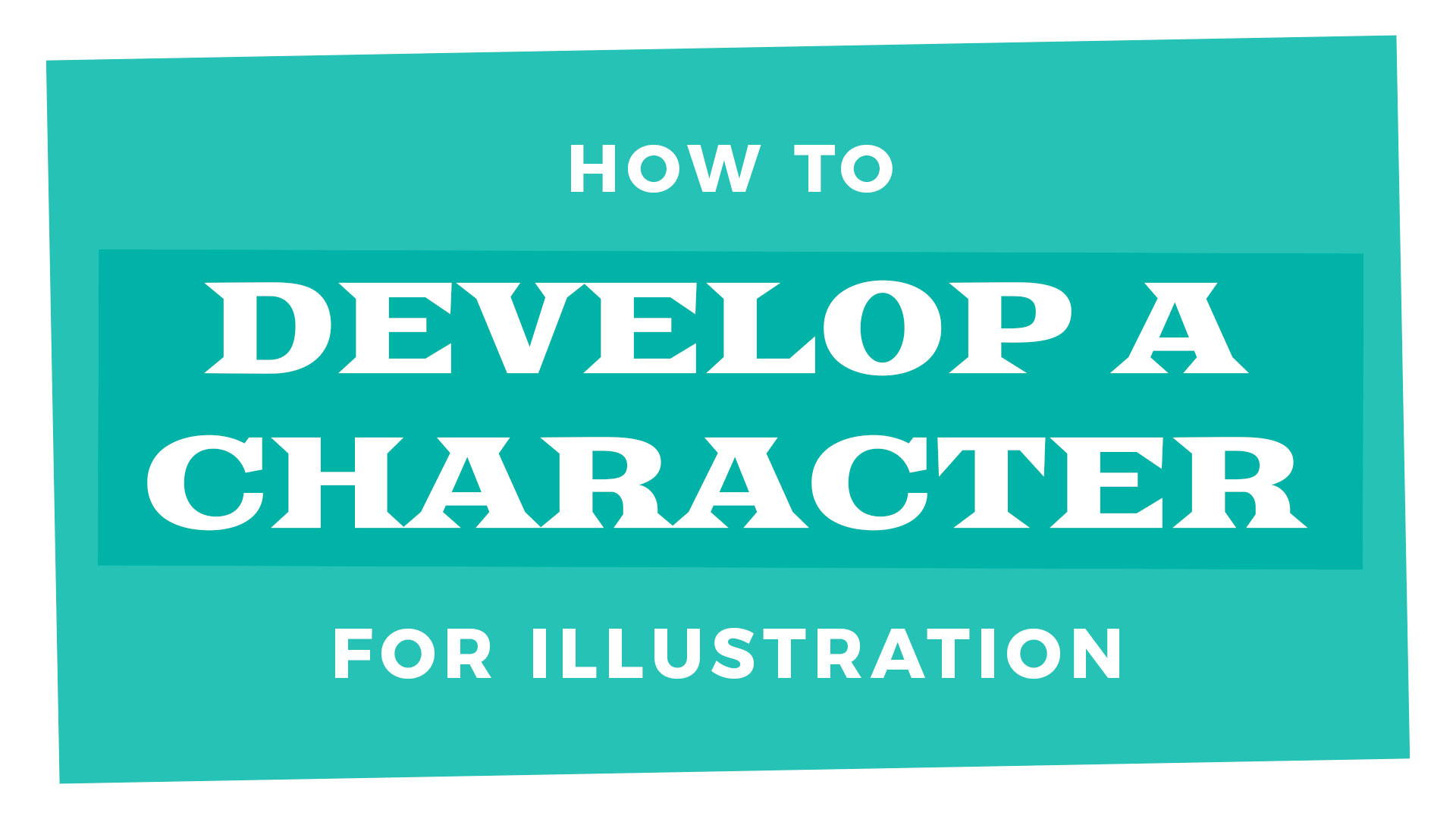 There is a difference between merely drawing a person, animal, or thing, and drawing a character. A character is used to tell a story. Everything that is included in their depiction has a purpose and is used to tell the story further. A character has a personality and unique characteristics. They are developed around a series of truths, meaning the qualities that make that character who they are. Everything about the character is determined, from what they look like, to what they love, dislike, fear, want, and more. A character is adaptable and flexible, meaning they can be drawn in a number of ways depending on their emotions, reactions, surroundings, or where they are in their story. 
What makes a good character?
In one word? Personality! A good character should be unique, exaggerated, distinctive, and a little weird. Throw "perfect" out the window. Give them interesting quirks and flaws. Look for tension: give your character a fear that gets in the way of something they desire. Employ contradictions. Can parts of your character be the opposite of what you'd expect? If your character is a typically scary animal, what if you made them cute and timid?
The ability to stylize a subject plays an important role in illustrating a character. Push the boundaries of how the person, animal, or thing might look in real life. Exaggerate its features and expressions. And yet, at the same time, you want your character to be simple. Too many details might overcomplicate things and impede on your character's abilities. Every piece of their personality and appearance needs to contribute to the storytelling. You'll want to strike a balance between keeping it simple and making it interesting.
Here are a couple of articles to further your research about what makes a good character.
10 Principles of Character Design by Yes, I'm a Designer
The first step in drawing a character is defining who your character is. You may be developing a character from an existing text, such as a story you plan to illustrate. In this case, search the text for clues to answer as many of the questions below as possible. If you are creating a character from scratch, the sky is the limit!
If you are having trouble getting started, try our Random Character Generator to give you a jumping-off point for your character!
Create a profile of your character, defining both their physical appearance and their personality. Jot down some notes and create some doodles about them. The more you know about your character, the better you will be able to communicate their interests, desires, and story to the viewer. Let's get started!
What type of "being" are they?
Is your character a human? An animal? An inanimate object like a pencil, a flower, or a piece of fruit? Different considerations need to be made depending on what type of character you choose.
A human? 
A human character is the most relatable choice for your intended audience (i.e. humans). We understand how they move, how they look, and how they think. With that in mind, how can you create something unexpected with your human character?
An animal? 
Does it look like the animal does in nature in terms of color, body shape, etc? Does the animal wear clothes? Can it hold things? Does it move like an animal or more like a human? How do the character's natural instincts figure into their personality?
An imaginary creature?
Imaginary creatures like vampires, mermaids, werewolves, monsters, etc. fall somewhere between human-like and animal-like. Literature and media have given us a strong definition of what these creatures are. How can you push beyond those definitions? Can you create your own imaginary creature?
An inanimate object?
This could be the most difficult choice for a character because an inanimate object does not move on it's own! Therefore you'll have to determine if and how it moves. Where is it's face? Where are it's arms and legs (if it has any)? Is it possible to wear clothes? How about accessories? What interesting things can their body do because of the materials they are made of? For example, a piece of paper character could fold it's body up into different forms.
Once you know what your character is, it's time to start thinking about what your character looks like. This involves defining your character's age, gender, and physical characteristics. Depending on what type of being your character is, not all of the questions below will apply.
What is your character's…
Age
Gender
Build
Height
Hair: color, texture, length, style
Eye color

Skin tone

For animals/creatures: What type of skin? Fur, scales, feathers, etc.
Do they have any unique facial features or other physical characteristics: mole, scars, freckles, birthmark, tattoos, etc.
Do they have any physical injuries or disabilities? Wears a cast, Uses a wheelchair, prosthetic limbs, etc. Note: be careful not to use the disability as a trope.  Read this helpful article about depicting characters with disabilities. 
What is their personality?
Your character's personality will say a lot about who they are and how they behave, and even what clothing and accessories they might be wearing. Below is a list of questions to ask yourself about your character. Imagine your character in as much detail as possible, as if they were a real person (or creature, etc.). Not all of these answers will translate visually just yet. Still, it's important to get to know your character in depth, especially when you progress to illustrating your character in an environment.
Questions to answer about your character
What are their personality traits? Here is a long list of ideas!
Where do they live?
What time in history do they occupy? Present? Past? Future?

What are they good at?

What do they like to do?
What do they love?
Who do they love?
What are their dreams?
What do they want?
What are their fears?
What are their quirks? Here are some great ideas for character quirks.
What is their weakness?
What makes them 

special?

What is their favorite…food, color, etc.?
What hobbies do they have?
What makes them angry?
What do they dislike?
Do they have a job/occupation?
What is your character wearing, and what are they carrying? Clothing and accessories can really help tell the story of who they are, where they are from, and what they are doing. When choosing the character's clothes and accessories, look to their personality for clues. What is their favorite color? What activities do they like to do? What climate do they live in? Are they going off on an adventure that requires them to be outfitted in a specific way? How can their clothes and accessories enhance their personality and unique quirks? There are infinite combinations of options to choose from, so have fun choosing your character's getup!
Start by defining your character's clothing. Items of clothing to consider:
Shirt
Pants, trousers, overalls
Skirt
Shorts
Dress
Coat, jacket, blazer, sweater, hoodie, cardigan, etc.
Shoes
Socks, leggings, tights, etc.
Below is a Pinterest board I made filled with fun reference photos of clothing!
It's important that your character has a few accessories. Not only will this give your character more personality, but the accessories you choose to include will also help tell your character's story. Plus, choosing accessories is super fun!
Do they wear any jewelry?

 necklace, bracelet, earrings, body piercings, wristwatch, pocket watch, etc.

What is on their head?

 Hat, ball cap, bonnet, crown, tiara, beret, sweatband, hood, beanie, bandana, hairbow, headphones, helmet, shower cap, swimming cap, fedora, etc.

What is on their face?

 Eyeglasses, sunglasses, goggles, a mask, eyepatch, gasmask, makeup, face paint, etc.

What is around their neck?

 Scarf, bowtie, necktie, ascot, cape, shawl, bandana, lanyard, etc.

Is there something in their mouth?

 Old-fashioned pipe, lollipop, bubble gum, etc.

Do they have an accessory to hold their stuff?

 Backpack, handbag, shopping bag, picnic basket, suitcase, fanny pack, etc.

Are they carrying any special tools or equipment?

 Hammer, bucket, radio, axe, shield, sword, paintbrush, tennis racquet, butterfly net, keys, musical instrument, umbrella, spatula, skateboard, etc.

Do they have a little sidekick?

 A pet, a tiny creature, a small animal friend, etc.
Now that you have defined your character and created a profile, you're ready to start drawing.
Character Camp is a FREE series of prompts, guides, and tutorials to help get you familiar with designing and drawing your own characters. This series was created in conjunction with the Making Art Everyday challenge. Each day for four weeks, we'll have a different prompt to get you learning how to draw characters. We'll be exploring human characters, animals and creatures, even inanimate objects as characters.