Support an Awesome Procreate Artist!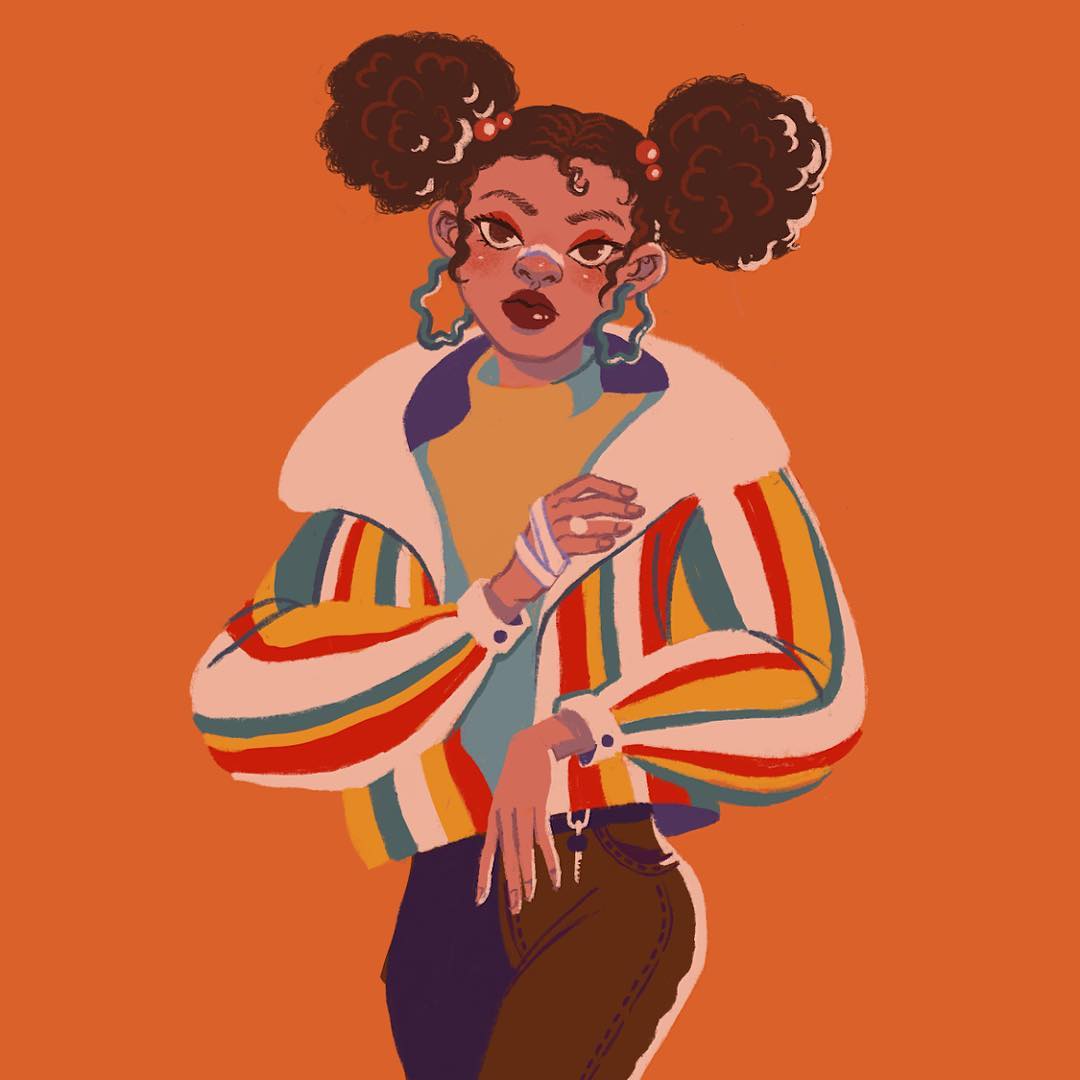 Meaningful stories told through comics, Charlot's sparkly, bold, colorful, feel-good art empowers others to see the beauty in diversity.
"As a black artist, I often depict underrepresented characters in empowering ways to help change their narratives." Charlot Kristensen has been commissioned to do freelance work for many clients, including the HuffPost, Google, Penguin Random House, and the New York Times. Her first graphic novel, "What We Don't Talk About," was recently published by Avery Hill and has since received glowing reviews.
Charlot, an illustrator, designer, and book author based out of Dublin, Ireland, has been drawing since she was nine years old. She loved drawing cartoon characters from a young age. This love of art only continued to grow in her teen years when she came across Anime and Manga. In fact, her biggest inspirations come from Disney and Anime. Bryan Lee O'Malley, Hayao Miyazaki, Rumiko Takahashi, Ai Yazawa and Craig Thompson have each impacted Charlot's art and storytelling skills. She has also been inspired by movie directors Joe Wright and Sofia Coppola as well as musicians such as Grizzly Bear and Imogen Heap.
Charlot is a self-taught artist who learned from and was inspired by the styles of the artists she loved as a child. She goes on to say, "I didn't own fancy drawing materials, so usually, I would just draw with a pencil or biro pens on photocopy paper." At the age of fourteen, her love for digital art awakened when her father brought home a copy of Photoshop. During college and university, she decided to further pursue and develop her art. Charlot worked in IT customer service between college and university, which gave her the financial ability to focus more on her artwork. She now works part-time at a local Food-Coop while freelancing. She loves that this provides her the opportunity, "to actually interact with other humans" and provides "a place to take a break from constantly coming up with art solutions."
Charlot has been using Procreate for the past two years. She finds that through Procreate, her art has become more accessible to her. Simply put, she is able to draw more often. Procreate, she shares, is a tool that is quick to learn. The variety of brushes have also influenced the look and feel of her art. Charlot admits she is not completely tech-savvy when it comes to painting programs. She is excited to learn more about the liquify tools because, as she puts it, "what you can do with this tool is beyond me." Outside of digital art, Charlot enjoys dabbling in markers and Posca pens, but it's the Apple pencil she can't live without.
Over the years, Charlot has struggled with deciding on the type of artist she wanted to be. She shares, "I felt for a long time I was just drawing pretty pictures which didn't really convey my feelings about subjects important to me." It wasn't until her last year of university when she became more involved with activism, she finally decided she wanted to use her art to empower the black community. At this point in her career, her main goal as an artist is to tell meaningful stories through comics and contribute to diversifying art.
Charlot, like many artists, also struggles with artist block. "I think artist's block happens when we've used up our creative energy," she shares. "We have to fill up our minds again with new creative ideas. The way I do that is to take a step back from art and go back to absorbing books/anime/movies I love. I might also busy my mind with other activities like baking bread, which I've found pleasure in doing recently. Basically, it's important to take breaks from drawing and use that time to observe things you're interested in. Our art is basically a reflection of the things we enjoy, so it makes sense to engage with those interests."
Finally, Charlot would like to share the following with other artists: "I see a lot of people saying that if you draw a lot, you'll improve faster. I don't think you need to draw every day to get better. I think you need to observe more and draw less. Spend more time on your drawings." She wants to encourage other artists to really analyze their art, styles, themes, and goals. We can analyze our art by learning from other artists and asking ourselves what we like about their art. What works? What doesn't work? She goes on to say, "Spend time figuring out what sets you apart as an artist. What kind of art do you enjoy making?" As artists, we don't need to restrict ourselves to one particular style. Artists can have many "art-styles." Charlot does express the importance of one's art having consistency, whether in the elements added or the messages conveyed in the art. "When deciding on the theme of your art," she says, "make sure it's something you actually like because it's what people will potentially commission you for in the future."
Charlot says the best way to support her is by sharing her work with your friends/followers and if they have the resources, recommend her for work. 
Charlot also runs an art shop where she sells prints, postcards, and zines alongside her partner and would appreciate it if people checked it out!
Support Charlot kristensen